Experience the Adventure Cruise
Voted #1 in the World | 4 Years in a Row
WORLD'S BEST AWARDS - BEST SMALL SHIP CRUISE COMPANY
CONTACT A SPECIALIST Avoid cruise ship crowds, restrictive access & average guides We Keep
Our Numbers Down
Our style of luxury travel in small groups means you get to have the islands, animals and guides more to yourself
Luxury Yachts
Tailored to the Galapagos
360-degree unrestricted views & lots of outdoor space under shade. Ideal for whale watching, photography or taking in your surroundings.
World Class
Naturalist Guides
They make the difference between a good adventure and the trip-of-a-lifetime. Quasar guides are entertaining hosts with top leadership skills & university level knowledge.
Galapagos Luxury Cruise
The Galapagos Islands are one of the world's most remarkable destinations and every day is filled with bucket-list moments. Onboard our Galapagos tours everywhere you turn there are opportunities to see the thriving wildlife and nature and with each new encounter, your sense of awe increases. Looking beyond the sheer beauty of the islands lies the mass of culture and history; it was these islands that Darwin studied in great detail to develop his 'Theory of Evolution'.
There are a number of ways to see the islands but the best way is onboard our Galapagos luxury cruise. The large number of islands are best visited by boat as many are uninhabited and Quasar Expeditions; having won Travel and Leisures #1 Best small ship Cruise Company award for 4 years running, are an excellent choice. We focus on taking our guests' experiences to the next level and turning an exceptional vacation into the trip of a lifetime.
Galapagos Islands Luxury Cruise
A Galapagos luxury cruise is the perfect way to explore the Galapagos Islands. With 360 degree views, the promise of visiting multiple islands, and the endless wildlife encounters; our Galapagos cruise tours are always in demand.
The current #1 Travel and Leisure small ship Cruise Company; Quasar Expeditions is an excellent choice for your Galapagos Islands cruise. Founded 36 years ago, we are the longest-running and most experienced Galapagos tour company and have amassed a wealth of five-star testimonials throughout our career. A family-run company from Ecuador, we have a great deal of local knowledge and a strong love for our second home; the islands.
All of our crew, staff and guides share the same passion and commitment to taking our guests on top quality cruises, really turning their vacation into a trip of a lifetime. We have the experience to know what works and what doesn't to ensure we deliver the best Galapagos cruise tour every time.
READ MORE
Why tour the Galapagos with Quasar Expeditions?
Built on a young couple's dream of showing the islands to the world, Quasar Expeditions was founded in 1986 and continues to be a family run company with thousands of success stories. We are the oldest and most experienced small luxury Galapagos island tour company in Galapagos and truly consider the islands to be a second home.
We focus on providing sustainable travel and are a Global Compact Partner and Zero Waste Project Partner. Our passion is to preserve the environment so future generations can enjoy the same experiences and Galapagos tours as us today.
Galapagos Islands Luxury Cruise
The archipelago's wildlife-rich islands are best accessible by boat as they are usually more remote and so booking a Galapagos luxury cruise is a good decision. Most of the islands remain uninhabited meaning that many of the sights that you will see are completely unspoiled. Dense forests, untouched beaches, and large groups of wildlife are all on the agenda! Having won awards for our small ship cruises and sustainable tours, it is clear that we have the knowledge and experience to really deliver the best luxury Galapagos cruise.
Why we have the best Galapagos Luxury Cruises & Island Tours
What better way to relax, unwind and reconnect with nature than cruising around one of the Earth's most remarkable archipelagos? Quasar Expeditions offer luxury Galapagos tours on small ships cruises to ensure access to the more fragile islands that large ships are unable to visit.
Quasar Expeditions truly care about the experiences of our guests and provide high quality, luxury trips with world-class naturalist guides. Our company was built upon the desire to show the treasures of the Galapagos Islands to the world and we are committed to that on every trip. Key elements of our tours are;
Small ships - we know the difference that a small tour group can make. Being away from the crowds makes the trip a lot more personal and enables deeper connections to be made with the rest of the group and the Earth.
Plenty of wildlife encounters - everywhere you turn there are opportunities to encounter wildlife; sea lions, seals, flamingos, tortoises, and iguanas are regularly found roaming the islands. There are plenty of snorkel spots and whale watching opportunities on our cruises and large numbers of birds roam the skies.
World-class guides - our testimonials often refer to our guides as being one of the main factors in their success. All of our guides are friendly, passionate, and have a genuine love for the environment and their job. Our guests always comment that it's our guides that make Quasar Expeditions one of the best Galapagos tour companies!
Enquire About Your Galapagos Cruise & Island Tours Today
Quasar Expeditions also specializes in Galapagos luxury charters, Galapagos honeymoon cruises as well as Galapagos Islands vacation packages. Awards and ratings do not lie; join our five-star success stories and speak with a consultant today to book one of our Galapagos Island tours.
Galapagos Islands Air & Water Temperatures:
(slide to view)
| | | | | |
| --- | --- | --- | --- | --- |
| Month | Average Low | Average High | Avg. Water Temperature | Avg. Rainfall (In The Highlands Only) |
| JANUARY | 72°F / 22°C | 86°F / 30°C | 76°F / 24.5°C | 1.0 in / 2.5 cm |
| FEBRUARY | 75°F / 24°C | 86°F / 30°C | 77°F / 25°C | 1.0 in / 2.5 cm |
| MARCH | 75°F / 24°C | 88°F / 31°C | 77°F / 25°C | 2.0 in / 5.1 cm |
| APRIL | 75°F / 24°C | 88°F / 31°C | 77°F / 25°C | 1.5 in / 3.8 cm |
| MAY | 72°F / 22°C | 82°F / 28°C | 76°F / 24.5°C | 0.75 in / 1.9 cm |
| JUNE | 70°F / 21°C | 79°F / 26°C | 73°F / 23°C | 0.25 in / 0.6 cm |
| JULY | 68°F / 20°C | 79°F / 26°C | 72°F / 22°C | 0.5 in / 1.3 cm |
| AUGUST | 66°F / 19°C | 79°F / 26°C | 71°F / 21.5°C | 0.25 in / 0.6 cm |
| SEPTEMBER | 66°F / 19°C | 79°F / 26°C | 72°F / 22°C | 1.3 in / 2.5 cm |
| OCTOBER | 68°F / 20°C | 79°F / 26°C | 73°F / 22.5°C | 0.25 in / 0.6 cm |
| NOVEMBER | 70°F / 21°C | 79°F / 26°C | 73°F / 23°C | 0.5 in / 1.3 cm |
| DECEMBER | 72°F / 22°C | 81°F / 27°C | 73°F / 22.5°C | 0.5 in / 1.3 cm |
(slide to view)
CHOOSE your LUXURY GALAPAGOS YACHT
Experience the Galapagos in spacious comfort and privacy aboard two yachts from the Golden Age of Travel
8 & 15 Day Cruises
Timeless elegance with royal history. Cruise the Galapagos Islands aboard Grace Kelly's honeymoon yacht.
explore
8 & 15 Day Cruises
Experience the Galapagos in spacious comfort and privacy aboard a yacht that retraces the footsteps of Darwin.
explore
We often get asked what is the cost of a Galapagos Islands cruise and the answer really depends on the type of trip you are after.

For anyone interested in cruising the Galapagos, it is strongly recommended to add a minimum of 2 nights in Mainland Ecuador on the front end of your trip to accommodate for flight delays, cancellations or baggage issues. How much you spend in your travels on the mainland will depend on the type of hotel you stay at and if you choose to do any tours while in Ecuador.

Flights to Galapagos from the mainland range for adults from about $470 to about $530 ($360 - $400 for children), but this is constantly changing so it is best to always check with airlines like Latam and Avianca that currently have daily flights out to the islands. Children under 12 normally get an important discount on domestic air. You also need to pay a mandatory transit card (used to track visitors and make sure they don't stay more than 3 months in the islands) and it costs $20 per person.

Once in Galapagos, non-Ecuadorians must pay a Park fee of $100 for adults and $50 for children under 12. There are discounts available for Ecuadorians and for some Andean countries that are members of Pacto Andino.

Regarding cruise prices, Galapagos is considered an expensive destination, regardless of the type of traveler you are. But as a general rule of thumb, you can find budget ships for as low as $250 per person, and luxury ships for as high as $1000 per person per day. Galapagos cruise deals are available from time to time.

Finally, you should always consider some money for tips to guides and crew in your budget. Normally you can expect to pay about $10 per day for crew and for guides on budget ships and about $20 - $30 per day on the luxury ships.

So all in all, for 7 night Galapagos cruises (which is what we recommend), you can expect to pay within the ranges below for the different level of trip:

US$2,400 - $3,400 for a very rock bottom Galapagos cruise.

US$3,500 - $4,400 for a medium range Galapagos cruise.

US$4,500 - $9,000 or a high end Galapagos cruise.

You can also learn more on Galapagos travel in our Frequently Asked Questions on the Galapagos page.
Unlike many wildlife sanctuaries around the world, the Galapagos Islands are a great year-round destination and there really is no "better" or "worse" time to travel there. However, the high season for tourism tends to be from mid-December to January and from June to August, which coincides with the general holidays and vacation months of the Northern Hemisphere. If you are planning your Galapagos cruise during the "popular" holiday months, we recommend you book your trip at least 6 months prior to your desired travel date and when possible, even sooner.

If you are a passenger who is interested in cruising the islands, there is really no "off-season". In part this is because the Galapagos are right on the equator so that air and water temperatures do not vary much. Learn all about when to visit the Galapagos Islands, including a detailed month by month weather and wildlife breakdown. In addition, because almost all of the animal species you will see on the Islands arrived because they floated there on logs or beds of plants, or they were blown in, they made the islands their permanent home and they do not migrate. This means that species like the Galapagos penguin, flightless cormorant, marine iguana, land iguana, blue footed booby, Galapagos hawk, fur sea lion, California sea lion and many others spend the entire year in the Galapagos. The Waved Albatross is one of the few migratory exceptions and is best seen in tours during spring and summer.
To answer this question, you must first understand how the Galapagos park handles cruise itineraries. Before 2012 Galapagos tour vessels all visited the same sites week in and week out. This led to environmental impact, with multiple boats visiting the same sites at the same time. Thankfully the Galapagos National Park came up with the idea of requiring all ships to wait 2 weeks before returning to the same site. This not only reduced environmental impact and dispersed boats evenly throughout the Islands, it reduced the amount of crossovers and passengers at each site.

Today all permitted Galapagos vessels navigate a two week voyage through the islands, which they divide up into different length itineraries that are 3, 4, 5, 8 and up to 15 days. This leads to the question: How many days should you plan for your Galapagos itinerary? If you have the time and wherewithal, you can stay on the same yacht for the full two weeks and see almost all there is to see in both land and sea. Most travelers can't do that though, so here are the alternatives.

At the other end of the spectrum the chief mistake traveler's should avoid is not allowing enough time to experience the islands. It's a long way and a fair expense just to get there. Much of the first and last days of any itinerary are spent traveling between the mainland and Galapagos and once you arrive you'll want to make sure you can get into the Park where all the animal action is. As an example, we refer to a 3-day Galapagos trip as 'the airport tour'.

The reason to visit Galapagos isn't airports or even port towns, it's to encounter all those amazing animals inside the National Park. If you don't leave enough time, just when you are beginning to relax and realize the wonderful wildlife experiences the islands have in store for you…you will have to leave!

Our 36 + years of luxury cruising in the Enchanted Islands have shown us that an 8-day safari style yacht experience is ideal and gets great reviews. It provides plenty of opportunities for peak animal encounters and relaxation. For more information on this and related subjects read our blog: Mistakes to Avoid When Planning Your Galapagos Islands Cruise.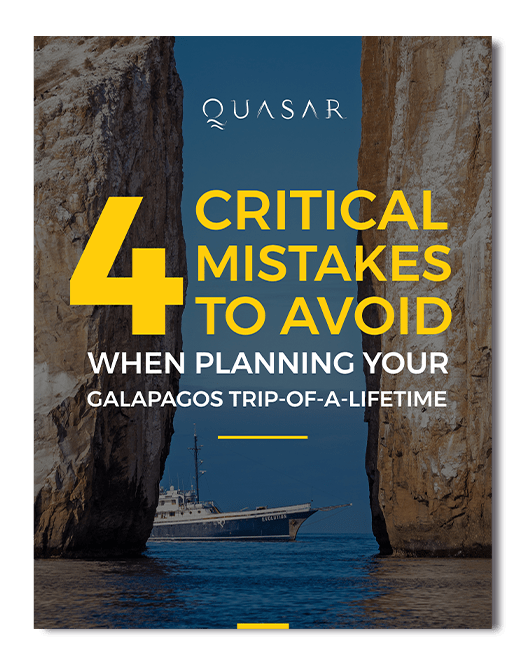 Download this MUST-HAVE GUIDE to avoid the mistakes that 90% of travelers make when visiting the Galapagos Islands.