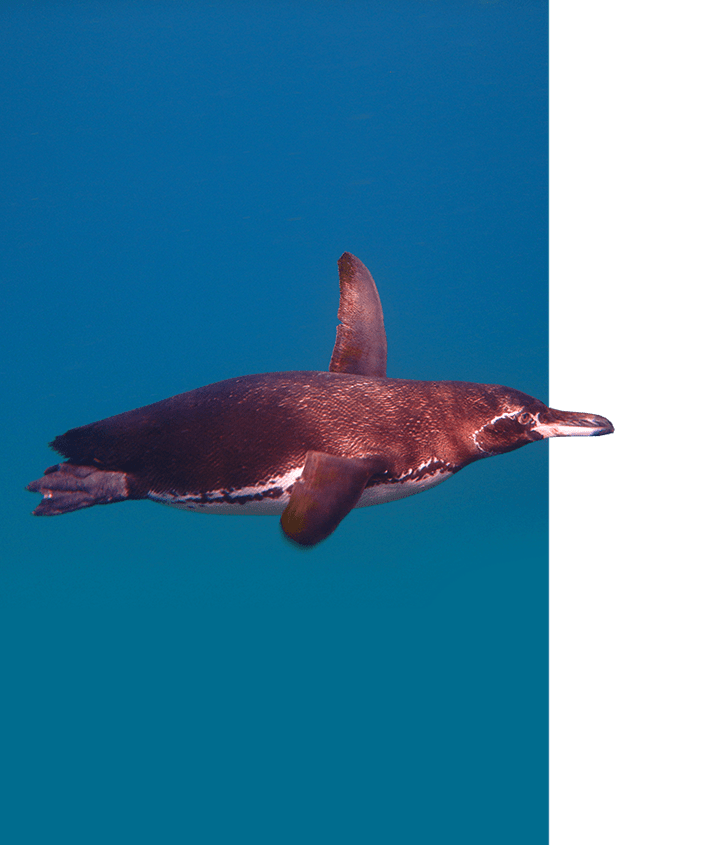 There's never a bad time to visit the Galapagos, but there are specific times where you're more likely to experience the unique adventures and events that interest you most. That's why we created a Galapagos monthly guide to the seasonal events that take place throughout the Islands, so that our Guests can stay informed on what they'll experience at any given time of year.
In August, the weather is gorgeous and the animal life is on full display in the water, on land, and in the skies. Here are 6 reasons to visit the Galapagos in August.
Temperatures for Galapagos Islands in August:
| Average Low: | Average High: | Water Temperature: | Average Rainfall: |
| --- | --- | --- | --- |
| 64°F / 18°C | 74°F / 23°C | 66°F / 19°C | 0.25 inches / 0.635 cm |
1. Blue Footed Boobies Dance for Their Mates
The blue footed booby, in addition to its decidedly silly name, also happens to have one of the most distinctive mating rituals in the world of birds. In order to attract a female mate, blue footed boobies do a sort of ceremonial dance. This dance is designed to show their fitness for mating, and in August the male boobies are putting on their best displays for the females. If you want to see some unique bird behavior unlike any you've ever seen, August is an excellent time to do it.
2. Humboldt Current Brings Active Marine Creatures
The Humboldt current is a deep-sea current that rolls into the Galapagos island waters at this time of year. It brings a great wealth of nutrients and microscopic organisms, but what will really catch your eye is what follows—tons of marine life that comes to enjoy the nutrients and hunt in the coastal waters of the Galapagos. In August, the Humboldt current is particularly strong. That means you're more likely to see a wide range of sea life at every stage of the food chain. If the best snorkeling and fish-spotting is your favorite activity, then August is an excellent month to join Quasar on an expedition.
3. Whale and Dolphin Spotting Continues to Grow
Fish aren't the only sea creatures you'll see in August, and they're certainly not the largest. Whale and dolphin spotting in August is nearly at its peak, as these magnificent creatures come to the coastal waters surrounding the Galapagos to feed and frolic in the sea. You can catch sight of a wide range of dolphin and whale species, so be sure to keep those binoculars handy—you never know what massive gentle giant you'll see off the port-side of your Quasar expedition yacht.
4. California Sea Lions and Fur Sea Lions Breed and Frolic in the Water
Speaking of sea mammals, California sea lions and fur sea lions are also quite present on and around the Islands in August. These fun-loving creatures are a sight to behold and full of personality, making them favorites of many of our Quasar Guests. You can snap incredible photos and get up close and personal with these beautiful creatures, and even swim among them as they frolic and flip in the surf! Talk about an incredible story to take home after your Galapagos vacation.
5. Tortoises Lay Eggs on Santa Cruz Island
Santa Cruz Island is home to a large population of the Galapagos' famed tortoises. In August, these magnificent shelled reptiles settle in on the island and lay their eggs, watching over their prized offspring until it's time for them to hatch and make their own way. It's truly incredible to see the beginning of the life cycle for these fascinating creatures, many of whom will go on to live for over 150 years.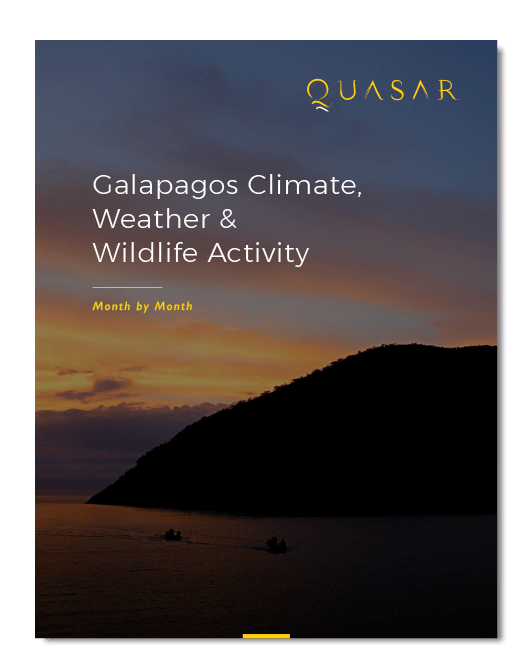 Interested in Visiting Galapagos?
Download our detailed Galapagos Climate, Weather, & Wildlife Activity PDF for a month-by-month guide on what animals to see and what weather to expect.
6. Birds & Birds & Birds...OH MY!
Love bird watching? Then August in the Galapagos is the time to visit. You'll catch everything from the waved albatross to the dancing blue footed boobies, plus magnificent and great frigate birds, flightless cormorants, penguins, and even hot-pink flamingos stepping daintily through the shallow waters of the Islands. Meanwhile, Island weather makes for clear air and great bird watching opportunities—whether you want to snap some photos or simply take it all in for yourself.
If you think August seems like your best time of year to visit the Galapagos, you aren't alone. Hundreds of our past guests have visited the Galapagos in August and shared their incredible experiences, like Cheryl Murphy:
Past Guest Cheryl Murphy:
"I would recommend Quasar Expeditions to any one planning a trip to the locations served by Quasar. The quality of service and knowledge of the personnel was beyond expectation. In fact the entire trip far exceeded expectations by 100%. The boat crew and hospitality staff go to great lengths to make sure each guest is having the best experience. This includes each activity planned for the day, from kayaking, snorkeling, and hiking to learning about the ecology, wildlife, and conservation. It also includes fabulous meals, snacks, and libations. Quasar Expeditions runs a 1st class operation."
Click here for more information on Galapagos Islands Weather