Never settle for a Patagonia adventure you'll soon forget




We believe you deserve a memorable Patagonia travel experience and we understand
how disappointing it can be to book a trip that does not live up to your expectations.
Over the course of the last 37 years we've helped over 75,000 adventurous travelers,
just like you, to experience an adventure that they will remember forever.

CONTACT A SPECIALIST Avoid the crowds, limited excursion options and average guides Explore the Parks
away from the crowds
---
Gain privileged access to remote destinations and enjoy more privacy through small-group travel
Visit Chile's Torres del Paine
and Argentina's Los Glaciares National Parks
---
See the best of Chilean and Argentinean Southern Patagonia, including highlights like Torres del Paine, El Calafate, Perito Moreno Glacier and El Chalten.
Enjoy a large choice
of available excursions
---
One of the key advantages of our safaris is the wide offering of adventure excursions in the Parks. Options include Jeep tours, hikes, ice trekking, kayaking, horseback riding, navigations and more!
Patagonia Luxury Tours & Travel
Patagonia is one of South America's best kept secrets. Often referred to as the 'end of the world', the unlimited, unspoiled landscape is spectacular. Bright blue waters, green forests, icy mountain peaks, stunning rock formations and a mass of different wildlife are regular sights in the region.
With over a million square kilometres of land, it can be important to book guided Patagonia luxury tours to ensure you are really making the most of your time and money. Trust the experts and use their knowledge to take you on the trip of your dreams.
Quasar Expeditions have been conducting Patagonia luxury travel for over 30 years and have a wealth of knowledge to help. Often, travellers are unaware themselves of what they are wanting from a trip and we are passionate about taking them on a tour that will exceed expectations and make unforgettable memories.
READ MORE
How To Choose Which Patagonia Luxury Tours Are Best For You
Deciding on which company to book your trip with can be difficult as what they offer is usually fairly similar on the surface. It is important to do your research when choosing to ensure you select a company that will best suit you. Here are some key criteria to keep in mind;
Trust and commitment - these points are imperative when looking at tours; you need a company that you can trust will deliver on what they are selling and who are fully committed to you.
Research the company - do your background checks. Understand who the company are and their main priorities and read through testimonials of past guests; a large number of five start reviews can be reassuring!
Look past the price - when searching for Patagonia luxury tours, it is important to remember that you pay for quality. Take note of how you are treated when making enquiries; if the company is quick to respond and shows passion and care, this can be a good representation of what their tour will be like.
Book Your Luxury Trip To Patagonia With Quasar Expeditions
Quasar Expeditions were founded in 1986 by a young couple with the dream of showing the treasures of South America to the world. All of our staff and guides are knowledgeable and truly care about providing our customers with life changing experiences, providing unique and authentic trips that create in-depth connections with the Earth.
Our Patagonia luxury travel packages ooze quality from start to finish. From day one, our customer service are already two steps ahead of our competitors and pride ourselves on our response times. We are dedicated and hard working and committed to each and every one of our guests. Our tours are top quality; we are partnered with Jeep to ensure our safari trips provide luxury, comfort and style.
Whether your focus is on the wildlife, photography, learning about the locals or a combination of them all, we have something for everyone and our guides and customer service team are there every step of the way. Our five star testimonials show that often it is our staff members that really take the experience to the next level.
Quasar Expeditions also specializes in adventurous Patagonia tours, Patagonia wildlife safari expeditions as well as all inclusive Patagonia travel packages.
Speak with a consultant today or complete an online inquiry form and embark on the path to your next vacation!
PATAGONIA overland SAFARIS
AVAILABLE YEAR-ROUND
Take a Patagonia Puma safari and delight in the rare opportunity to photograph the world's largest, most elusive mountain lion. A private puma tracking team and specialized puma guide await your arrival in Torres del Paine National Park.
explore
AVAILABLE FROM SEPTEMBER TO APRIL
Guests with a limited travel timeframe are invited to make the most of Southern Patagonia. Explore the highlights of Chilean and Argentinian Patagonia, from majestic Torres del Paine National Park to El Calafate and the mighty Perito Moreno Glacier.
explore
AVAILABLE FROM SEPTEMBER TO APRIL
This in-depth itinerary reveals the best kept secrets of Patagonia's most picturesque season. Explore Puerto Natales, Torres del Paine, and the Fjord of Last Hope. Hike Perito Moreno's icy landscape and tour El Calafate town–it's all about the journey.
explore
If the adventure options above do not exactly satisfy your vision or a Patagonia adventure, we recommend our Tailor-Made safaris, or you can also explore any of these three additional Safari adventures: a deeper exploration of Patagonia including El Chaltén on our 11 day Patagonia Immersion Safari adventure, our 6 day Wild Patagonia Safari, or our 6 or 5 day Hidden Safari in the months of May thru August.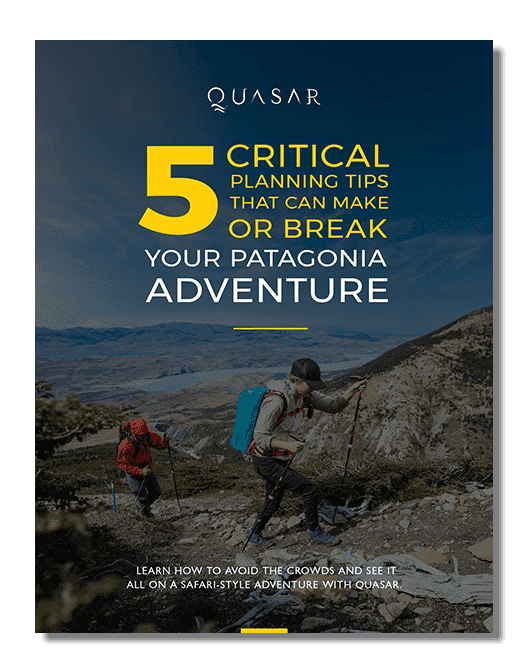 Download this essential guide to avoid the mistakes that 90% of travelers make when visiting Patagonia.
We Want to Help you Avoid Disappointment on your Next Adventure