Why Quasar Expeditions?
At Quasar Expeditions, our mission is to fulfill the travel dreams of fellow explorers by creating unique and meaningful travel experiences at each of our destinations. We have been doing this since 1986.
We do not sell to the tourist. We cater to the traveler. Travelers are very different. They are on a journey in search for something much more profound. We strive to make sure our guests connect on an emotional level with the destination and all it encompasses. This includes its people, history, culture, food and nature. It is a lot more than just a physical trip. It is a journey for transformation.
adventures
with purpose
The Quasar Difference
Quasar Expeditions' journey began over 3 decades ago. We pioneered high-end yacht cruising in the exotic Galapagos Islands in 1986, and we have hosted thousands of adventurous travelers from all over the world ever since.
When you plan your adventure with Quasar, not only will you enjoy the experience of a lifetime, but you also help preserve the destination you travel to. We want guests to know that their journey and participation has not harmed the region, but rather that they have helped support conservation projects in the region. Ultimately we want our guests to become ambassadors for the places we take them.
To compliment your experience, you will be treated to the special amenities and service found only on Quasar's distinctive private adventures, while offering the sense of a true expedition experience.
Galapagos for tomorrow
Throughout the years we have worked and supported the Charles Darwin Foundation, the Galapagos National Park and the Galapagos Scouts, organizations who help preserve the Galapagos Islands.
In addition, we understand that to achieve sustainability, we must educate the children of the islands and for that purpose, we founded the Galapagos Scouts Program.
The Galapagos Scouts Project was established in San Cristobal in 1997, in concurrence with the Scouts organization's vision: Making a true contribution for the creation of a better world. This vision, also shared by Quasar Expeditions, has driven the company to support the scouts, providing them with help and resources in order for the scout's organization to be able to confront the challenges for their future on these islands. These individuals are our future; the leaders of tomorrow who will help contribute towards the conservation of the Galapagos Islands, one of the few unharmed places that remain on this earth.
*In the picture: Dolores, one of the founders with the Galapagos Scouts.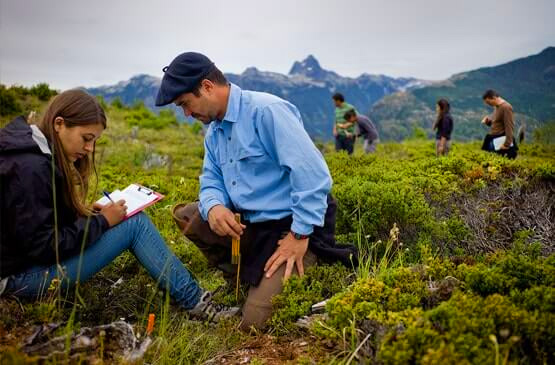 Reforesting Patagonia
Together with Reforest Patagonia, a nonprofit, public and private alliance, we work on a single objective: to recover one of the world's most important ecosystems by planting trees.
The Goal: To plant more than 1 million trees in Torres del Paine and other national parks and reserves in Chile. Patagonia is one of earth's greatest natural treasures - admired for its amazing beauty and also for its ecological importance. In the past 100 years, human intervention and forest fires have destroyed over 7.5 million acres of native wilderness. One of the worst fires in recent history occurred not too long ago, on December 2011, destroying 42,500 acres of land in Torres del Paine National Park in Chile. The magnitude of this tragedy inspired the creation of Reforest Patagonia, which is the largest native-species reforestation project in the history of Chile.
Conservation with Godfrey Merlen
Godfrey Merlen, a biologist born in England, but with a permanent residence in the Galapagos Islands for the past 43 years, is deeply involved in the investigation and the conservation of the archipelago.
Quasar Expeditions, works directly with Godfrey and supports his research and projects for the protection of the islands.
His work has been crutial for the conservation of the Galapagos and his collaboration with the Galapagos National Park. The Galapagos Whale Sanctuary, which contains a wide diversity of cetacea under the development of the Special Law for Galapagos, and his involvment in the Galapagos Marine Reserve play a key role towards protecting this natural wonderland.
His most recent role was that with the Biosecurity Agency which, together with the Galapagos National Park, is one of the most important aspects towards the survival of the Galapagos biodiversity.
The Carbon Fund
Through our collaboration with The Carbonfund.org foundation, our adventures in Patagonia are 100% carbon neutral and entirely eco-friendly.
Together we are helping the environment fight global warming, and helping make the transition to a clean energy future possible. The offset projects of Carbonfund.org are third-party certified to the highest standards.
We have calculated, reduced and offset every single emission from the engines of our all-terrain luxury vehicles making our Patagonia adventures, one of the most eco-friendly tourism projects in the region.
Galapagos Conservancy
We have partnered with Galapagos Conservancy to help protect, preserve and restore the Galapagos Islands. Through serveral initiaties, we are able to raise funds for the conservation of the archipelago.
Oceana
Oceana seeks to make our oceans more bio diverse and abundant by winning policy victories in the countries that govern much of the world's marine life. Oceana, founded in 2001, is the largest international advocacy organization focused solely on ocean conservation. With offices around the world, Oceana works to win strategic, directed campaigns that achieve measurable outcomes that will help make our oceans more bio diverse and abundant.
Shelter and Caring for Peru
Quasar Expeditions is committed to a sustainable Peru. We make a donation from every tour we operate to the Magical Cusco Tours Peru Foundation, which is dedicated to developing and implementing projects that directly help poor towns in Peru that do not benefit from tourism dollars. We are currently working in the town of Huarocondo, a very poor town near Cusco, to help build a school, a shelter for students who live far away and a medical clinic.
fiver foundation
Quasar Expeditions is also committed to working with other organizations that are not necessarily involved with our destinations. The Fiver Children's Foundation is a non-profit comprehensive youth development organization that empowers children from underserved communities to develop life skills and to reach their full potential
Fiver's 10-year commitment to each child includes year-round mentoring and counseling programs, a character building residential summer program, and partnerships with schools and community based organizations.
Brain & Spine Foundation
Quasar Expeditions continues to support important and responsible practices and has donated a Galapagos cruise for the Brain & Spine Foundation.
World Pediatric Project
Quasar Expeditions donates a cabin each year aboard our very own M/Y Grace yacht to raise funds for the World Pediatric Project.
The World Pediatric Project was founded in 2001 as International Hospital for Children, with the mission to link worldwide pediatric surgical, diagnostic and preventative resources to heal critically ill children in developing countries.
Dr. Julian Metts, in conjunction with the South Richmond Rotary Club, founded the organization after returning from a dental mission trip in which Dr. Metts witnessed many children who were dying due to lack of access to critical medical care which is readily accessible in the United States. On March 1, 2011, International Hospital for Children merged with a nonprofit organization in St. Louis and became World Pediatric Project.
Educational Travel Community
Since 1987, ETC has provided timely educational travel training, professional development, and affinity-based networking forums expressly designed for professionals serving this special-interest, niche tourism market.
Designed to address the issues of most critical importance today to alumni, museum and nonprofit travel, a substantive educational program with outstanding speakers delivers a vertically rich and integrated educational experience over the course of several days with 30+ educational sessions, collegial roundtables, skills workshops, plus networking opportunities and special events. ETC attendees collaboratively grapple with the ethical, business, programming and marketing issues that face nonprofit and affinity travel programs today, including ways to enhance and improve the competitiveness of program offerings, alumni/member engagement, revenue return, and new traveler recruitment. Each year, a diversity of sessions is offered on perennial topics such as risk management, marketing, trends, media, product development, industry issues, responsible tourism and travel planner roundtables, plus a vast array of timely topics discussed in special interest group (SIG) sessions.
California Wine Masters
Quasar Expeditions participates in the annual "Culinary Evening with the California Winemaster's Charity Event" which supports the Cystic Fibrosis Foundation. The Cystic Fibrosis Foundation is the world's leader in the search for a cure for cystic fibrosis that fund more CF research than any other organization, and nearly every CF drug available today was made possible because of Foundation support.
The California Winemaker's Charity Event is a nonprofit, donor-supported event which obtains funds that are then dedicated the Cystic Fibrosis Foundation.
Free World United
Quasar Expeditions has partnered up with Free World United to help raise funds for Galapagos Conservancy and Reforest Patagonia. Free World United is a progressive apparel brand that donates a percentage of every sale to worthy causes.
Protecting the Andean Condor
It is estimated that there are only about 50 wild Condors left in the entire country of Ecuador, according to a local survey led by the Ministry of the Environment. This species is in critical risk of extinction in Ecuador, and has been currently flagged on the Red List of Ecuador's endangered animals.
The loss of its natural habitat, coupled with illegal hunting and deliberate poisoning, has greatly reduced the Condor's population in Ecuador over the last 20 years.
Through our collaboration with the ACCP project (Andean Condor Conservation Program) of Ecuador, Quasar Expeditions' is providing funds for the care and protection of the Andean Condor. This non-profit organization is dedicated to the breeding and care of condors for future release into the wild.
Waste Management
Our love for the nature of the wonderful Galapagos ecosystem inspired us to offer Galapagos eco-tourism over two decades ago to share and preserve the beauty of this part of the world. Today's travelers expect tour companies to protect the country, indigenous communities and the Galapagos ecosystem where they operate.
At Quasar Expeditions we take this exceptional opportunity to support development and integration of local communities into our changing world, without losing the unique identity in the process. We are confident that our Galapagos eco-tourism efforts will be appreciated by future generations of responsible travelers.
- The fragile Galapagos ecosystem is susceptible to even the smallest changes. Quasar Expeditions' Galapagos eco-tourism supports a waste-management effort to protect the Islands.
- Aboard our Galapagos eco-tourism operations, glass is recycled and used to make building blocks and other building materials.
- Plastic waste, burnt oils and other non bio-degradable waste from Galapagos eco-tourism is shipped out of the Galapagos ecosystem and back to the continent to be disposed of properly.
- Our Galapagos cruises have been carefully planned so that they utilize the least amount of plastic and non-biodegradable waste possible.
Technology that Minimizes Contamination
State-of-the-art technologies for the engines and waste-management systems of our Galapagos eco-tourism yachts protect the Galapagos ecosystem.
Extremely clean-running, combustion-maximizing engines produce very little waste. Meticulously-designed waste management system releases no inorganic waste from our Galapagos eco-tourism expeditions into the Galapagos ecosystem.
Charles Darwin Foundation
The Charles Darwin Foundation for the Galapagos Islands (CDF) is an international non-profit organization dedicated to scientific research. CDF has carried out its mission in the Galapagos since 1959, thanks to an agreement with the Government of Ecuador and with the mandate to pursue and maintain collaborations with government agencies by providing scientific knowledge and technical assistance to promote and secure conservation of Galapagos.
Photography for Galapagos
A community of photographers and photo enthusiasts that, through photo-related initiatives, raise funds for the protection, conservation and restoration of the Galapagos Islands.
ADVANTAGES THAT
MAKE THE DIFFERENCE