Patagonia Tours for Seniors
Often referred to as 'the end of the world', Patagonia can easily be placed into the category of an adventurous trip that is full of excursions and involves a lot of walking and activity, and therefore assumed to be a place that mainly fits the younger generation. Whilst this is true; there are plenty of active excursions, it shouldn't be overlooked that there is very much a part of Patagonia for older travelers too.
At Quasar Expeditions, we offer Patagonia tours for seniors that can be tailored to your specifications. We generate itineraries that fit your criteria, whether that be a relaxing trip full of wine tasting, spectacular views, and watching wildlife roam in its natural habitat or something a little more less active such as escorted small hikes, bird watching, and horse riding. Our vision is to create unique, authentic, and meaningful experiences through sustainable tourism, ensuring generations to come can enjoy the same.
READ MORE
Quasar Expeditions Patagonia Tours for Seniors
Since we were founded 37 years ago, Quasar Expeditions have been committed to providing senior travelers with trips that are truly unforgettable and our testimonials provide evidence of just that. We want you to for a deeper connection to Patagonia and the sights that you visit and we have key elements that help to enable this. Some of these are;
Private Jeep Safaris
We fully understand that national parks and wildlife are best experienced in small groups and away from the hustle and bustle of big crowds. By doing so, not only do you better achieve a feeling of zen but the experience is heightened because your senses can come alive to different noises and colors that you may not notice when distracted by large numbers of people. We decided to provide safari-style tours as we know how much of a difference this can make to your trip overall.
Detailed guides
Often highlighted as a big factor in the success of our Patagonia tours for seniors, Quasar Expeditions provide fully guided Jeep tours with friendly and knowledgeable guides. Our crew, staff, and guides are professional, passionate, and truly care about your experience. We share the same values in wanting to take you on the trip of a lifetime and our guides do everything they can to achieve this for you.
Five-star treatment
From day one, we focus on you. We provide you with the best accommodation; filled with the modern amenities that you would usually expect alongside breathtaking views of the landscape, mouth-watering cuisine, some of the best wine in the world, and unbelievable excursions. This, mixed with small, personal group tours, expert guides, and the opportunity to mingle with the locals, are the key ingredients to a memorable trip.
Start Planning Your Seniors Patagonia Tour Today!
Our knowledge and experience help us to plan trips that exceed expectations. Quasar Expeditions also specializes in extended Patagonia tours for seniors, Patagonia wildlife safaris for older travellers, as well we believe we have the most accessable Patagonia itinerary for people with limited abilities. Whatever your age or ability, we tailor trips to your specification, so speak with a member of our team or fill out an online inquiry form today and generate your best Patagonia tour itinerary.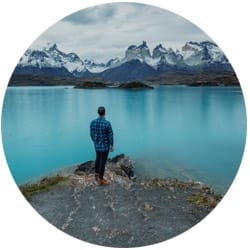 Explore the Parks away from the crowds
Gain privileged access to remote destinations and enjoy more privacy with Travel+Leisure's Top Tour Operator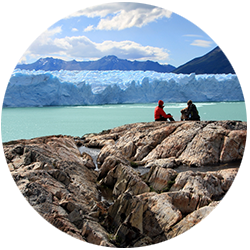 Visit Chile's Torres del Paine and Argentina's Los Glaciares National Parks
See the best of Chilean and Argentinean Southern Patagonia, including highlights like Torres del Paine, El Calafate, Perito Moreno Glacier and El Chalten.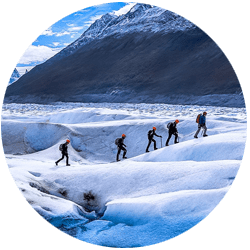 Enjoy a large choice of available excursions
One of the key advantages of our safaris is the wide offering of adventure excursions in the Parks. Options include Jeep tours, hikes, ice trekking, kayaking, horseback riding, navigations and more!
PATAGONIA overland SAFARIS
AVAILABLE YEAR-ROUND
Take a Patagonia Puma safari and delight in the rare opportunity to photograph the world's largest, most elusive mountain lion. A private puma tracking team and specialized puma guide await your arrival in Torres del Paine National Park.
explore
VAILABLE FROM SEPTEMBER TO APRIL
Guests with a limited travel timeframe are invited to make the most of Southern Patagonia. Explore the highlights of Chilean and Argentinian Patagonia, from majestic Torres del Paine National Park to El Calafate and the mighty Perito Moreno Glacier.
explore
AVAILABLE FROM SEPTEMBER TO APRIL
This in-depth itinerary reveals the best kept secrets of Patagonia's most picturesque season. Explore Puerto Natales, Torres del Paine, and the Fjord of Last Hope. Hike Perito Moreno's icy landscape and tour El Calafate town–it's all about the journey.
explore
If the adventure options above do not exactly satisfy your vision or a Patagonia tour adventure, we recommend our Tailor-Made safaris, escorted or not escorted, or you can also explore any of these three additional Safari adventures: a deeper exploration of Patagonia including El Chaltén on our 11 day Patagonia Immersion Safari adventure, our 6 day Wild Patagonia Safari, or our 6 or 5 day Hidden Safari in the months of May thru August.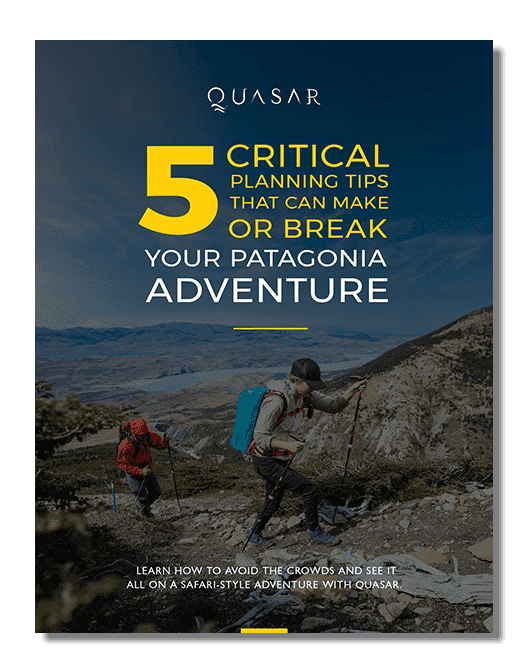 Download this essential guide to avoid the mistakes that 90% of travelers make when visiting Patagonia.
We Want to Help you Avoid Disappointment on your Next Adventure