Patagonia Wildlife Safari
Patagonia is increasingly becoming a popular vacation choice for travelers. The breathtaking views, untouched landscape and of course a large variety of wildlife are just a few of the reasons to visit. With photo opportunities at every turn and charm oozing out of every nook and cranny, it is easy to see why the area is becoming a sought after destination.
With over a million square kilometres in landmass, it can be hard to begin planning a trip, especially if your main focus is wildlife, so booking a Patagonia wildlife safari is very beneficial. That is where Quasar Expeditions can help.
Having been in the industry for 37 years, longer than any other company, we have incomparable experience when it comes to delivering life-changing tours. We know what works and what doesn't and often understand our customer's needs better than they do, taking our guests on trips that far exceed their expectations.
READ MORE
Why Patagonia Is One Of The World's Best Places Place For A Wildlife Safari?
Unlimited and unspoiled nature at it's finest, Patagonia is renowned for its beauty. The national parks are like no other; Torres del Paine, Tierra del Fuego, and Los Glaciares to name a few of the best. The snowcapped mountains, bright blue waters, and an array of spectacular ecosystems make for a nature lovers' dream.
There are a variety of activities that help accentuate the experience; kayak around the fjords, trek across the fields of ice, embark on a multi-day hike, ride a horse along one of the many trails and so much more. Each providing a different view of Patagonia to enhance your trip.
The wildlife that you can encounter in the region is awe-inspiring. Our Patagonia wildlife safari tours allow you to track Patagonian Pumas in their natural habitat. With help from our professional tracking team, our guides have the knowledge and dedication that is needed to take your experience to the next level.
What To Expect On Safari With Quasar Expeditions?
We have the most passionate, friendly, and professional crew, staff and guides in the industry who are fully committed to taking you on a Patagonia safari that you will remember forever. We don't just want to show you the sights, we provide you with an in-depth, more meaningful adventure so you can really connect with other humans, the animals and the Earth itself. We offer;
Private group tours, away from crowds - we know that the best safari tours are with fewer people; you get to hear more sounds and see more animals when the environment is quiet and peaceful.
Knowledgeable guides who truly care - many of our testimonials rate our guides as being one of the main factors of the success of their tour.
Sustainable travel - we put high importance to providing the most eco-friendly tours for our guests. We want Patagonia to remain raw and rugged so generations to come can enjoy the same sights that we experience today.
Book Your Eco Patagonia Wildlife Safari Today!
Quasar Expeditions also specializes in private Patagonia tours for seniors, Patagonia luxury travel as well we believe we have the best Patagonia tours and packages.
Speak to a sales consultant or fill out an enquiry form today, start your Patagonian safari adventure and discover how many species of wildlife you can encounter!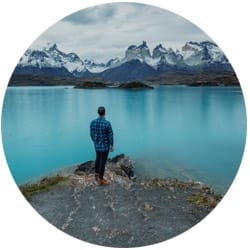 Explore the Parks away from the crowds
Gain privileged access to remote destinations and enjoy more privacy with Travel+Leisure's #1 Tour Operator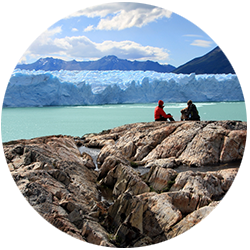 Visit Chile's Torres del Paine and Argentina's Los Glaciares National Parks
See the best of Chilean and Argentinean Southern Patagonia, including highlights like Torres del Paine, El Calafate, Perito Moreno Glacier and El Chalten.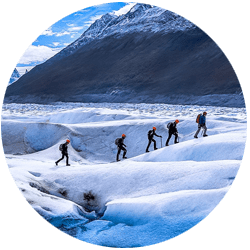 Enjoy a large choice of available excursions
One of the key advantages of our safaris is the wide offering of adventure excursions in the Parks. Options include Jeep tours, hikes, ice trekking, kayaking, horseback riding, navigations and more!
PATAGONIA overland SAFARIS
AVAILABLE YEAR-ROUND
Take a Patagonia Puma safari and delight in the rare opportunity to photograph the world's largest, most elusive mountain lion. A private puma tracking team and specialized puma guide await your arrival in Torres del Paine National Park.
explore
AVAILABLE FROM SEPTEMBER TO APRIL
Guests with a limited travel timeframe are invited to make the most of Southern Patagonia. Explore the highlights of Chilean and Argentinian Patagonia, from majestic Torres del Paine National Park to El Calafate and the mighty Perito Moreno Glacier.
explore
AVAILABLE FROM SEPTEMBER TO APRIL
This in-depth itinerary reveals the best kept secrets of Patagonia's most picturesque season. Explore Puerto Natales, Torres del Paine, and the Fjord of Last Hope. Hike Perito Moreno's icy landscape and tour El Calafate town–it's all about the journey.
explore
If the adventure options above do not exactly satisfy your vision or a Patagonia adventure, we recommend our Tailor-Made safaris, or you can also explore any of these three additional Safari adventures: a deeper exploration of Patagonia including El Chaltén on our 11 day Patagonia Immersion Safari adventure, our 6 day Wild Patagonia Safari, or our 6 or 5 day Hidden Safari in the months of May thru August.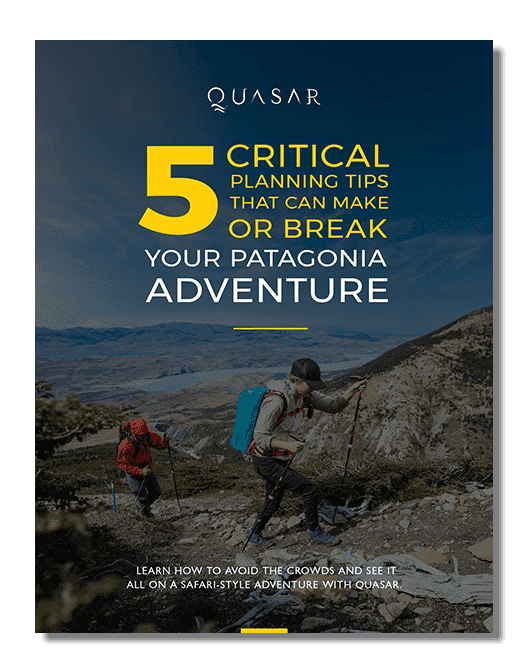 Download this essential guide to avoid the mistakes that 90% of travelers make when visiting Patagonia.
We Want to Help you Avoid Disappointment on your Next Adventure