The Warm, Wet Season & The Cool, Dry Season
Thanks to the confluence of cold water currents from the west and the south, the Galapagos archipelago has an uncharacteristically dry and moderate climate for the tropics and is generally classified as sub-tropical. This makes Galapagos travel a year-round vacation option. Galapagos weather is considered equatorial, cooled by the Humboldt Current, and is characterized by two main seasons:

- The warm, wet season (Late December to June)
- The cool, dry season (Late June to December)
Read more on the best time to visit the Galapagos Islands below.
THE TWO SEASONS & EL NIÑO / LA NIÑA
---
The Warm, Wet Season
Late December to June is considered the warm and wet season, with March and April usually being the hottest and wettest months. Around December, the trade winds fall and the climactic equator (located north of the geographic equator) shifts south toward the Galapagos, causing the westward-flowing current to slow, reducing the upwelling and allowing warmer water from the Panama Current to bathe the archipelago. Galapagos climate is characterized by rain clouds that form when the inversion layer breaks down, and the air warms and rises, resulting in daily afternoon showers. Even in this season; however, the low elevations receive only limited rain.
---
The Cooler, Dry Season
This season, also known as the "garua season" runs from late June to December, when it is relatively cool and dry with more overcast skies and occasional drizzle or mist (garua) during the day. August is the coolest month. During this dry season, Galapagos weather is pleasant, the water temperature is lower and there are often clouds on the higher elevations. Visibility is usually lower in the water due to plankton bloom, but this combination of conditions brings in the whale sharks and there is a lot more activity in the water and food is abundant. Because Galapagos climate is not too hot during this season, it is also the breeding period for many sea birds and shore birds, marine iguanas, sea lions and fur seals.
---
El Niño and La Niña Phenomenons
El Niño is a disruption of the oceanic and atmospheric systems off the coast of South America that causes unusually warm water temperatures, a shift in the direction of the winds, changes in currents, and significantly increased rain. The increased rainfall leads to the destructive flooding on the eastern Pacific, while at the same time causing drought in the western Pacific, all the way to Australia. This phenomenon is predicted by monitoring changes in temperature on the surface of the sea, wind conditions, and currents near Ecuador and Peru.
During El Niño, trade winds slow in the central and western Pacific causing the warmest water to shift to the east, which in turn results in major changes in atmospheric circulation around the globe, forcing weather changes throughout the world. When the warm water shifts east, the coldwater thermocline layer near South America drops lower into the ocean. The surface water temperature rises significantly and the supply of colder, nutrient-rich water is cut off.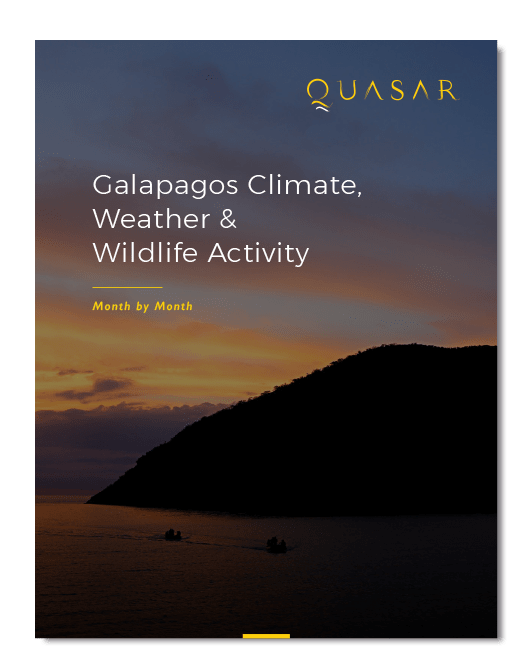 Download our detailed Galapagos Climate, Weather, & Wildlife Activity PDF for a month-by-month guide on what animals to see and what weather to expect.
(slide to view)
Galapagos Weather Month by Month
| Air Temperatures (min - max) |

(slide to view)
| Average Water Temperatures |
(slide to view)