The garua' season (June to November) is when the weather is relatively cool and dry, with sunny or overcast skies and occasional drizzle. The air temperature reaches its lowest levels (19°C-66°F). Unlike many of the top vacation destinations in the world, there is no "bad" time to travel to the Galapagos Islands. Every month is filled with wonder and delight, other-worldly wildlife encounters, and underwater radiance.
While all of that is true, we're highlighting September as one of the most well-rounded months to travel to the Galapagos Islands. From mild weather to higher water temperatures, lively wildlife encounters to bustling breeding activity, September is an incredible time to experience a broad-spectrum display of the Galapagos' best.
Wondering if September is an ideal month to plan your Galapagos cruise getaway? Read on!
Temperatures for Galapagos Islands in September:
| Average Low: | Average High: | Water Temperature: | Average Rainfall: |
| --- | --- | --- | --- |
| 62°F / 16°C | 76°F / 24°C | 68°F / 20°C | 0.5in / 1.3cm |
1. Galapagos wildlife and marine life are more active than ever with the presence of the Humboldt Current.
The Humboldt Current, also called the Peru Current, is a robust ocean current that flows west along the equator, bathing the Galapagos archipelago with new life.
In September, the presence of this current is strong, making nutrients in the water more abundant and marine life is more active. The result? A vibrant array of rare wildlife and marine life appear for this feast. Snorkeling anyone?
2. During this time, whale and dolphin watching is at its best.
Spotting whales and dolphins from the yacht deck, particularly on Quasar's crossing to Fernandina Island, is very common. September brings with it guaranteed Kodak moments, as you bare witness to the graceful nature of some of the world's largest sea creatures.
From seeing Humpback Whale calves riding on the backs of their mothers to seeing the Orcas' agile jumping displays, getting up close and personal with whales and dolphins brings National Geographic to life right before your eyes.
3. You are guaranteed to see sweet sea lion pups.
There are few mammals cuter that California and Fur Sea Lion pups. You'll see both when you visit the Galapagos Islands in September! This month is full breeding season for the archipelago's sea lion population, resulting in some of the sweetest wildlife encounters of the year.
4. September is a bird-watcher's delight, with some of the most vibrant Galapagos sea bird activity of the year.
In September, Great Frigate birds start mating. If you haven't witnessed their beautiful courting displays, you (and your camera) are in for a treat.
Sea bird nesting is also very active in September. You're likely to see majestic Blue and Red-Footed Boobies, quirky Flightless Cormorants, elegant Greater Flamingos, and torpedo-like Galapagos Penguins swimming at the surface. In this month, even the Brown Pelican comes out to play and display their trademark long, fish-gobbling bills.
5. September's overall conditions are ideal for unparalleled snorkeling.
September is right in the middle of the garua' season (June to November), when the weather is relatively cool and dry. This season in the Galapagos has a reputation for plenty of sunny hours and only an occasional drizzle.
The presence of the Humboldt Current guarantees a clear and vibrant underwater display. From swimming with sea lion pups to watching the Flightless Cormorant's famous underwater acrobatics, you might feel compelled to spend more time underwater than above.
Click here for more information on Best spots for snorkeling in Galapagos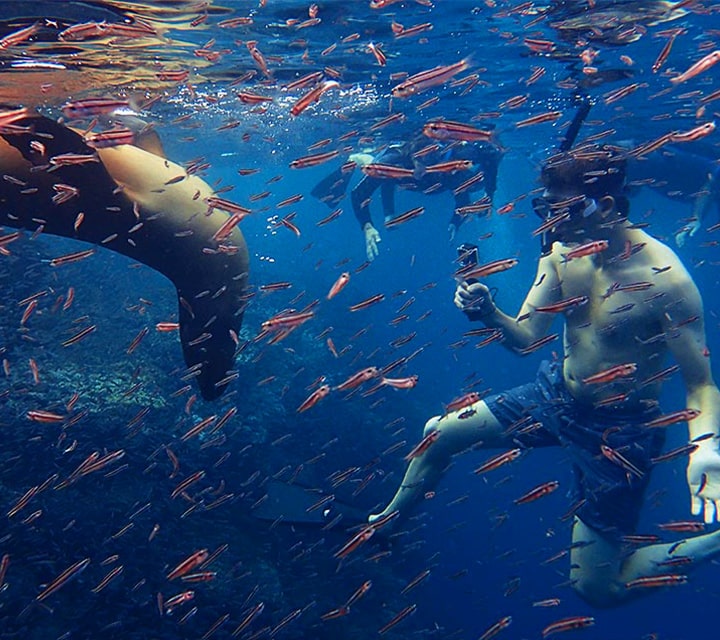 6. September in the Galapagos Islands is a photographer's dream.
Slightly overcast skies are perfect for photography since you are not fighting with harsh shadows. Moreover, rare wildlife encounters, bustling breeding activity, and vibrant underwater displays make this a perfect time for photographers to visit the archipelago.
For photography enthusiasts, Quasar offers luxury Galapagos photography cruises in September that highlight the beauty of the Galapagos' serene landscapes and rare wildlife. Led by award-winning photographer and Galapagos conservation expert Tui De Roy, travelers are guaranteed to capture all the best this month has to offer.
Extra September Animal Facts in the Galapagos:
Galapagos Penguins are active since May and swimmers and snorkelers can be delighted at Bartholomew with penguins swimming at the surface or torpedo-like while underwater.
Sea lions are very active. Females have reached oestrus stage, and so harem-gathering males are constantly barking and fighting. Shore fighting is heavy. Western and central islands are the most active ones in terms of sea lions' activities.
Most species of Galapagos sea birds remain quite active at their nesting sites.
The beautiful appearance of the the Brown Pelican, the second largest seabird in Galapagos is visible throughout the islands.