May is a beautiful time of year in the Galapagos. Well, it's always a beautiful time of year in the Galapagos. But like every unique season, May brings its own special charms and pleasures to travelers who join us on one of our expeditions to the magnificent Islands.
With that in mind, we put together this round-up of the 6 best things about visiting the Galapagos in May, from beautiful weather to amazing animal behavior that's at its peak during this time of year.
Temperatures for Galapagos Islands in May:
| Average Low: | Average High: | Water Temperature: | Average Rainfall: |
| --- | --- | --- | --- |
| 72°F / 22°C | 82°F / 28°C | 74°F / 23°C | 0.75 inches / 1.90 cm |
1. The Cooler Season Begins
May is perfectly situated between the hot, dry season and the cooler, rainy season. That makes the weather absolutely beautiful and arguably the most pleasant of the year. The average air temperature ranges from 72°—82° F (22° —28° C), perfect weather for enjoying time out in the sunshine without overheating while ensuring that it never gets too chilly at night. It's weather befitting a paradise-like destination such as the Galapagos Islands.
2. Water is Still Pleasant and Warm
Speaking of paradise, wait until you feel the Galapagos coastal waters at this time of year. Consistently hovering around 76°F (25C°), you'll feel just as comfortably warm inside or outside of the water. That makes for perfectly comfortable conditions when paddling around, going for a swim, or doing some of the best snorkeling as you search for marine life in the crystal-clear Galapagos waters.
3. Marine Life Visits the Nutrient-Rich Waters
Speaking of Galapagos marine life, May is one of the best times of year to see it. A current known as the Humboldt current begins to pick up strength at this time of year, bringing nutrient-rich water from deeper seas to the coastal waters of the islands. Those nutrients attract a wide range of fish, which in turn bring in larger animals and sea mammals like seals. And with water that's clear as glass, you won't believe the creatures you're able to see when snorkeling around your yacht.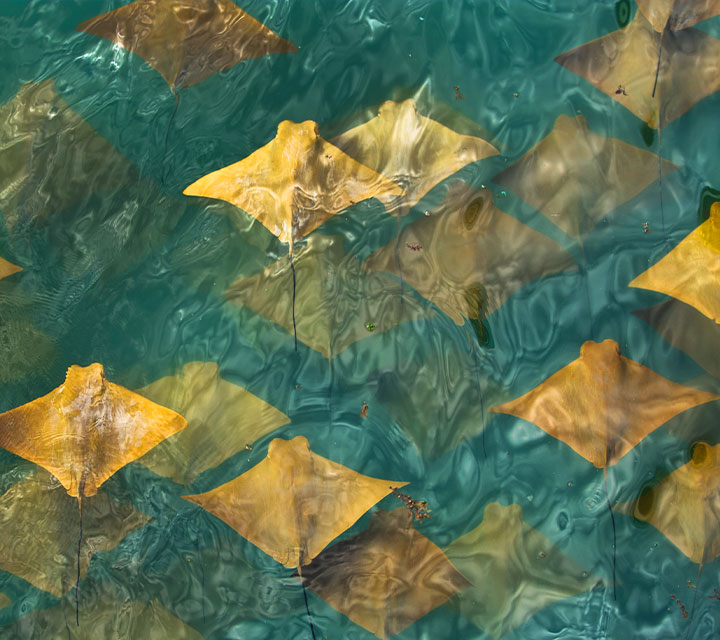 4. Marine Iguanas and Land Iguanas Mate and Hatch
Once you make your way to land, the natural displays and stunning wildlife only continue. Spring in the Galapagos means Iguana season. You'll find both Marine and Land Iguanas mating and hatching throughout the Islands and coastal waters, including some fascinating mating displays where males jockey for the attention of females and dominance over other competing males.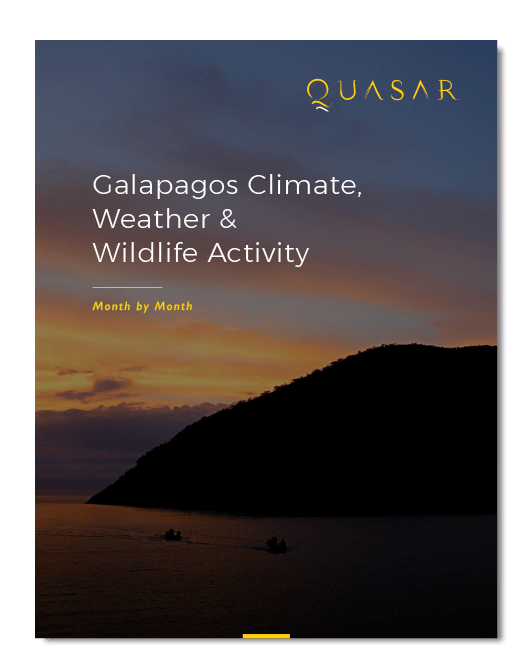 Interested in Visiting Galapagos?
Download our detailed Galapagos Climate, Weather, & Wildlife Activity PDF for a month-by-month guide on what animals to see and what weather to expect.
5. Green Sea Turtles Nesting and Hatching in the Wild
If you like your reptiles a bit more peaceful and slow-moving, May in the Galapagos has just the thing for you, too. During this time of year, the gorgeous Green Sea Turtles begin to nest and hatch their eggs in the wild around the Islands. Keen-eyed guests will have the opportunity to see Sea Turtle mothers as they prepare to lay eggs in the safety of the coastal sands.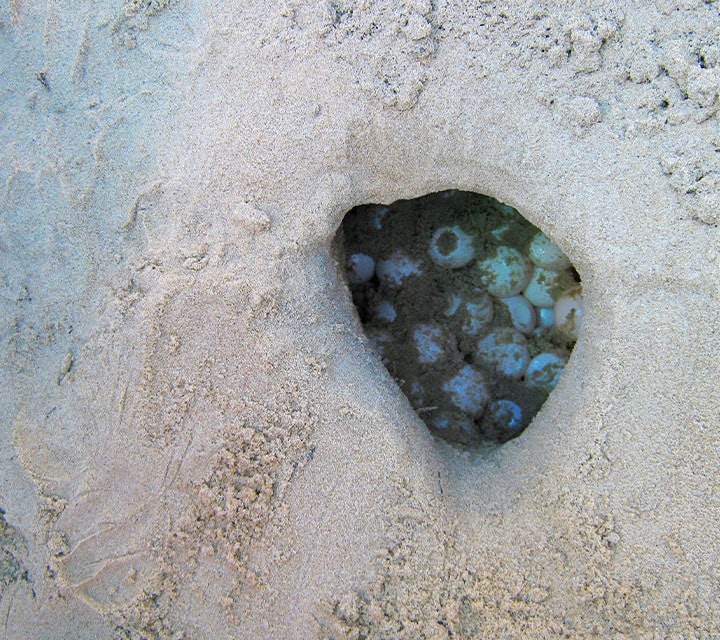 6. A Plethora of Bird Life
Look to the skies and you'll certainly have no shortage of beautiful bird life to take in as well. Distinct Blue Footed Boobies begin their unique courtship ceremonies in May, while their red footed cousins begin to breed and nest in the area. Great Frigatebirds can also be seen nesting and mating, and iconic bird species like Flightless Cormorants, Galapagos Penguins, and even Greater Flamingoes begin to settle in to nest around the Islands. Finally, one of the world's largest wingspans arrives in the form of the Waved Albatross. These magnificent birds begin nesting on the Islands in spring as well.
Hundreds of our Guests have enjoyed the incredible Galapagos islands during the month of May and shared their experiences, like MICHELE FISHER:
Past Guest MICHELE FISHER:
"Our trip in May was amazing! Every logistical detail was communicated and executed perfectly. The trip to Antisana with guide Daniel was the beginning of wonder; new birds, including Condors, and animals of the Andes. Our itinerary in the Galapagos was busy and fun, so many birds, penguins, sharks, sea lions, rays, sunsets, landscapes and on and on. On the Evolution we were treated to delicious food, friendly staff and knowledgeable guides. We also went to Sacha Lodge in the Amazon Basin. Going from ocean desert to rainforest was a big change and also a wonderful experience. Here we experienced culture in addition to parrots, macaws, monkeys, caimans, butterflys and more. These trips were all booked through Quasar with the help of our wonderful travel managers. It was the trip of a lifetime and I want to go back!"
Click here for more information on Galapagos Islands Weather
Click here for more information on Galapagos Luxury Cruises