Thanks to the incredible climate of the tropical Galapagos Islands, there's never a bad time to visit. But during our years of managing expeditions to this beautiful area and our partnerships with local experts, we've learned that certain times of year bring different things to see, climate variations, and opportunities to witness natural events unfolding.
With that in mind, we put together this series about each month in the Galapagos and what you can expect when you visit at each time of year. Today it's all about April, so here are the 7 best things about April in the Galapagos.
Temperatures for Galapagos Islands in April:
| Average Low: | Average High: | Water Temperature: | Average Rainfall: |
| --- | --- | --- | --- |
| 72°F / 22°C | 86°F / 30°C | 76°F / 24°C | 1.50 inches / 3.81 cm |
1. Highest Water Temperature of the Year
In April, the waters surrounding the Galapagos are at their absolute highest temperature all year — an incredibly pleasant 77°F. You can always depend on slipping into the impossibly nice waters for a laid back swim or thrilling snorkel with some of the dazzling marine life the coastal waters have to offer. It's one of the factors that make spring in the Galapagos such a beautiful time to visit.
2. Flamingos Breeding and Nesting on Islands
Speaking of beauty, one of the most iconic species of birds arrives to nest in April in the Galapagos. The beautiful pastel-pink coloration of the Greater Flamingos can be glimpsed on many of the Islands as they arrive in huge numbers to nest among the rocks and greenery. Our Quasar yachts are designed to be able to navigate you to the best places to take in these magnificent flocks of beautiful birds during your trip.
3. Beautifully Lush and Green Highlands
Thanks to consistent moisture in the Galapagos highlands during this time of year, you'll get to bask in the stunningly green and lush beauty of spring as the highlands blossom and grow. Perfect for taking landscape photography or simply taking it all in for yourself, April is one of the best times for seeing the Galapagos at its greenest and most alive.
Passenger Reviews Who Traveled in April
4. Clearest Skies of the Year
What's the perfect pairing with those deep, verdant greens? How about some bright, clear blues? While the highlands receive moisture, the coastal areas and surrounding waters enjoy the clearest skies you'll find in the Galapagos all year. That means plenty of sunbathing and basking in the warm tropical sun with less risk of occasional rainstorms.
5. Green Sea Turtles Nesting
People aren't the only ones who love getting cozy in the Galapagos in April. Green Sea Turtles arrive on the Islands at this time of year and begin to nest, laying their eggs in the sand and keeping them safe until it's time for them to hatch. It's a magical sight to behold, a once-in-a-lifetime opportunity that's perfectly timed for an April visit with Quasar.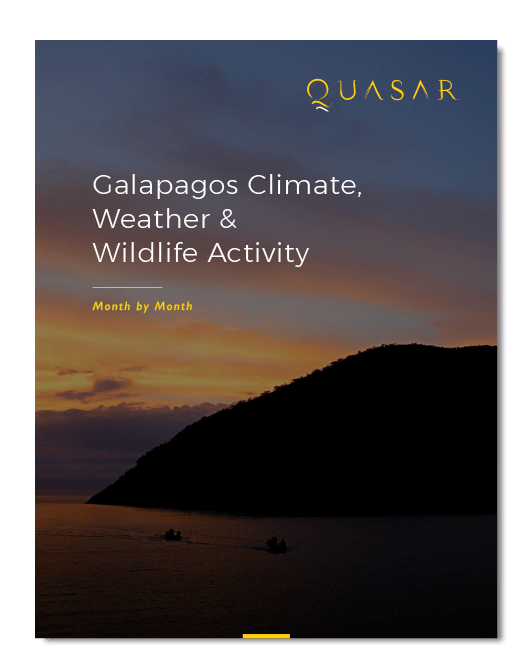 Interested in Visiting Galapagos?
Download our detailed Galapagos Climate, Weather, & Wildlife Activity PDF for a month-by-month guide on what animals to see and what weather to expect.
6. Tortoises Lay their Eggs
Speaking of our shelled reptile friends, the land-based Giant Tortoises are getting in on the action, too. These famous (and gigantic) residents of the Galapagos begin laying their eggs around April, so you're likely to come across nesting Tortoises on the islands as well.
7. Great Frigatebirds Mating and Nesting on Tower Island
Look skyward around Tower Island and you'll see Great Frigatebirds surrounding Tower Island — that is, if you visit in April when they're mating and nesting on the Island. These gorgeous birds mate and nest in April and will absolutely delight any birdwatchers who choose this time of year to visit.
If April sounds like the perfect time for you to have an incredible Galapagos experience, you aren't alone. Hundreds of our Guests have experienced the magic of the Islands at this beautiful time of year.
Just ask past Guest P. FOX:
"Quasar exceeded its 5 star rating for every aspect of this trip. First, the M/Y Grace is elegance without formality with an amazing Captain and talented crew who made our trip extra special. Our two National Park Guides, Carolina and Walter, were so enthusiastic and knowledgeable. We really lucked out with the 15 fellow guests on our week who were a diversified and fun group of adventurers. Finally, my most treasured memories will be interactions with the abundance of wildlife the Galapagos is home to. Sea lions, sea turtles, hammerheads, reef sharks (even a whale shark!), marine/land iguanas, and many many species of birds to name a few far exceeded my wildest dreams. This one week on the M/Y Grace will be in my heart forever."
Click here for more information on Galapagos Islands Weather
Click here for more information on Galapagos Luxury Cruises