Mainland Ecuador: Your Gateway to Nature's Masterpiece
EMBARK ON A TAILORED JOURNEY FROM MOUNTAIN PEAKS TO THE AMAZON BASIN
Have you ever felt like there's a world of adventure out there waiting for you, but you're not quite sure where to start? South America is full of fascinating places—it can feel impossible to choose a country that combines your love for nature, wildlife, history, gastronomy, and architecture into one unforgettable journey.
Ecuador may have eluded your travel radar until now, but it's time for a revelation. Imagine a place where biodiversity meets colonial charm, where you can stroll on cobblestone streets one day and find yourself in a secluded Amazon Jungle lodge the next. The world of Ecuador awaits, and you've been missing out on its breathtaking landscapes.
Allow Quasar—a family-founded Ecuador tour company—to reveal the hidden gems of our homeland. Whether you complement your Galapagos luxury cruise with a seamless Ecuador luxury tour or plan a personalized mainland-only expedition, your adventure with Quasar promises an "aha" moment that's long overdue.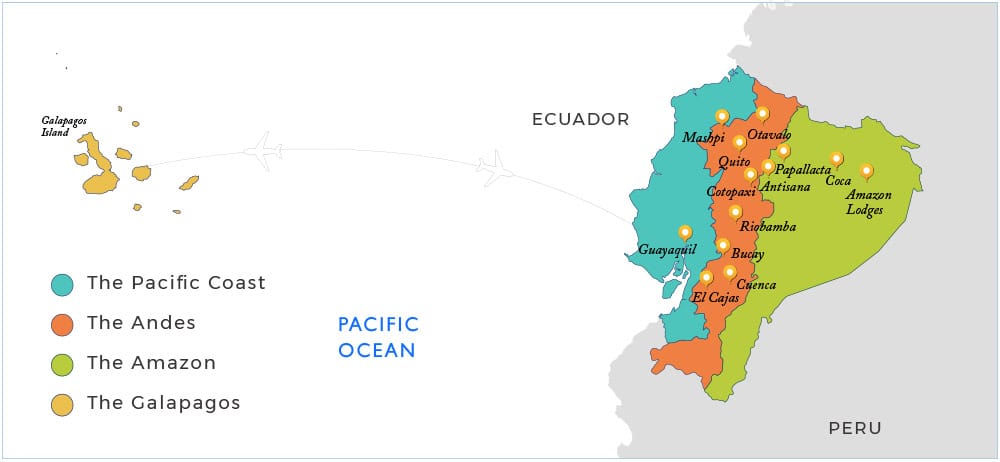 Raise Your Bar for Adventure Travel With a Tailored Ecuador Tour Package
PASSIONS MEET PARADISE IN A COUNTRY THAT HAS IT ALL
Ecuador, often whispered as South America's best-kept secret, is where your adventurous spirit meets paradise. Tucked between the equator and the Andes Mountains, this biodiverse country is surprisingly accessible. But what truly sets Ecuador apart is how easy it is to personalize your journey to perfection, with local Guides to help you explore your way.
Pick Your Perfect Path Through Mainland Ecuador
TRAVEL WITH MORE DEPTH ON AN ECUADOR ADVENTURE TOUR BEFORE OR AFTER YOU GALAPAGOS CRUISE
Adventure enthusiast, we see you. We know you're searching for the next meaningful travel experience that takes you off the beaten path into authentic culture, memorable meals, and rare wildlife. A cookie-cutter trip won't do.
Look no further than our most popular Ecuador travel itineraries, designed for travelers like you who want to experience life, not escape it.
Hear What Past Guests Are Saying
<
Top 5 Frequently Asked Questions About Traveling to Mainland Ecuador
EASE TRIP PLANNING WITH OUR 38 YEARS OF ECUADOR TRAVEL EXPERIENCE
Ecuador's equatorial location makes it a year-round destination with a remarkably diverse climate. Whether you're drawn to the lush rainforests, the highland cities, or the coastal regions, you'll be pleasantly surprised by the mild weather and low humidity in many parts of the country.
For exploring the Andean highlands and cities like Quito and Cuenca, the dry season from June to September is often considered the ideal time. During this period, you can enjoy crisp, sunny days and cooler evenings, making it perfect for outdoor adventures and city explorations.
For those interested in experiencing an Ecuador Amazon tour, the months from November to February offer fewer rain showers, making it easier to explore the lush jungle and its incredible biodiversity.
Ecuador's diverse climate means there's no wrong time to visit, but your choice should align with your specific interests and activities. Whether you prefer the Andes, the Galapagos, or the Amazon, Ecuador has something extraordinary to offer year-round.
Ecuador is an adventure enthusiast's paradise for several compelling reasons. Its geographical diversity means you can experience high-altitude trekking in the Andean mountains, thrilling jungle expeditions in the Amazon rainforest, and world-class snorkeling and diving in the Galapagos Islands—all within a relatively compact area.
This accessibility allows you to pack a remarkable variety of outdoor activities into a single trip. Additionally, Ecuador offers a perfect blend of cultural immersion and adrenaline-pumping experiences. You can hike ancient Inca trails, raft down exhilarating rivers, mountain bike through scenic landscapes, and witness unique wildlife in their natural habitats. With passionate local guides and diverse ecosystems, Ecuador beckons adventure travelers seeking unforgettable experiences in a setting that's as breathtaking as it is exhilarating.
Traveling to Ecuador from the U.S. or Canada is exceptionally convenient. One of the key factors contributing to this ease is Ecuador's use of the U.S. dollar as its official currency. For American travelers, this eliminates the need for currency exchange and the associated hassles, allowing for a seamless transition.
As far as logistics go, both the U.S. and Canada have well-established flight routes to Ecuador, with major airlines offering direct flights to major cities like Quito and Guayaquil. These flights make access to Ecuador's incredible landscapes, vibrant cities, and diverse cultures remarkably straightforward. Whether you're planning a Galapagos adventure, an exploration of the Andes, or an Amazon rainforest expedition, getting to Ecuador is the first step toward a journey filled with unparalleled experiences. And rest assured: Quasar's team of destination specialists will seamlessly plan and coordinate every detail, so you can focus on enjoying your time in Ecuador!
Our Mainland Ecuador tour packages offer a treasure trove of wildlife experiences. In the Andean highlands, you can spot Andean condors majestically soaring through the skies. In the mystical Cloud Forests, you might encounter the vibrant plumage of the quetzal or the elusive spectacled bear, the only bear species native to South America. The Amazon rainforest reveals a stunning array of biodiversity, from playful river otters to vibrantly colored macaws. And, on the Pacific coast, humpback whales migrate to Ecuadoran waters, offering thrilling whale-watching opportunities.
Ecuador's mainland boasts over 1,600 bird species, making it one of the world's premier bird watching destinations. With the extraordinary range of ecosystems within Mainland Ecuador, you'll witness the captivating richness of life on Earth.
Adding a Mainland Ecuador tour to your Galapagos cruise is a breeze with Quasar. Our Expedition Designers specialize in crafting personalized journeys to match your unique interests and preferences.
Simply reach out to us, share your travel passions, and leave the rest to us. Whether you're passionate about exploring the Andean highlands, immersing yourself in vibrant indigenous cultures, embarking on thrilling hikes, or indulging in culinary adventures, we'll design a seamless and unforgettable experience that seamlessly complements your Galapagos cruise.
Your journey begins with a complimentary consultation, and from there, we'll curate the perfect adventure, ensuring you get the most out of your Ecuador luxury tour.