Do you remember the story of Lonesome George? He was the last known Galapagos Giant Tortoise from the island of Pinta that scientists were desperately trying to breed when he died in 2012. His death marked the extinction of the Pinta species of tortoise and was felt by people all over the world. But, the story of Lonesome George isn't over yet as he's been returned back home in the Galapagos!
As a reminder of the importance of conservation, here's a bit about the life and death of the famed Galapagos George.
The Demise of Giant Tortoises
Yes, it's true, back in the day, whalers, sailors and even Charles Darwin loved the taste of giant tortoises. They were easy targets as they slowly wallowed through the water and over land, offering the promise of a large, deliciously oily meal. So, over a few hundred years, the population of tortoises in the Galapagos rapidly declined from hundreds of thousands, maybe even millions, to just a few thousand being left. They'd even completely disappeared from some islands.
Finding Lonesome George
For many years, scientists believed that the Pinta Island tortoise was one of these extinct species, until Lonesome George was discovered on Pinta Island in 1971. You can imagine the excitement felt by conservationists who then set out to find a mate for this last known giant tortoise.
Unfortunately, over the next 40 years, scientists didn't find any other Pinta tortoises. Lonesome George wasn't interested in mating with Pinta-like tortoises from another island. So, when George passed away at over 100 years of age, it sadly marked the extinction of his species.
The Legacy of Lonesome George
Following his death, Lonesome George was flown to New York to be preserved by taxidermists. Once complete, he was made the center of a highly successful exhibition at the American Museum of National History in 2014.
But this year, the remains of Lonesome George were returned to his home on Santa Cruz in the Galapagos. To celebrate his homecoming, the Galapagos National Park is holding a special exhibition in the breeding center on the island so people can learn more about his sad fate.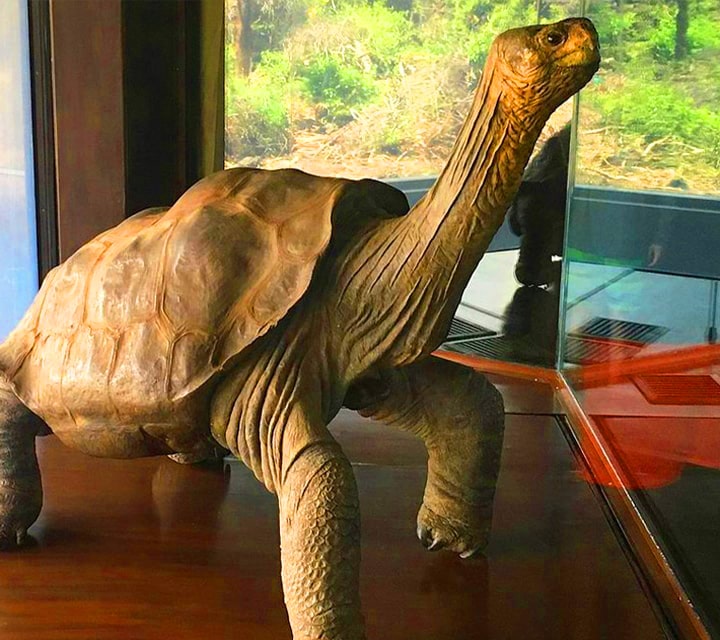 Although the story of Lonesome George is a sad one, the Galapagos Conservancy believe that his taxidermy will serve as a symbol of hope.
"Whatever happens to this single animal, let him always remind us that the fate of all living things on Earth is in human hands" – inscription on the information panel outside the Lonesome George enclosure.
Here is a great video on how a team was able to preserve the giant tortoise...
If you want to visit George yourself, Quasar's M/Y Grace and M/V Evolution Galapagos cruises will take you right to the island of Santa Cruz. Contact us now below to find out more!