Quasar Expeditions Galapagos luxury cruises has been voted Travel & Leisure's 2018, 2019, 2020, 2021, 2022 & now 2023 World's Best "Small Ship-Ocean Cruise Line". Everyone who is part of the Quasar Expeditions team is extremely honored and humbled by this win, on one of the travel magazines with the highest worldwide circulation. See our track record here:

• The Top 10 Small-ship Ocean Cruise Lines for 2018
• The Top 10 Small-ship Ocean Cruise Lines for 2019
• The Top 10 Small-ship Ocean Cruise Lines for 2020
• The Top 10 Small-ship Ocean Cruise Lines for 2021
•
The 10 Favorite Intimate-ship Ocean Cruise Lines of 2022
•
The 10 Favorite Intimate-ship Ocean Cruise Lines of 2023
When we originally received the news that we had been nominated again in this category, it was already another huge win for Quasar Expeditions. As a cruise line, we are a small, boutique company, operating only in the Galapagos Islands with a very small fleet. Within the "Small Ship" category though, we were competing one-on-one with very reputable, major cruise lines with a world-wide reach, and with hundreds of thousands of past travelers and repeat clients. Travel & Leisure defines "small ships" as those with occupations as high as 249 passengers, and with only 2 yachts of 16 and 32 guests, we knew the competition was extremely tough right from the start.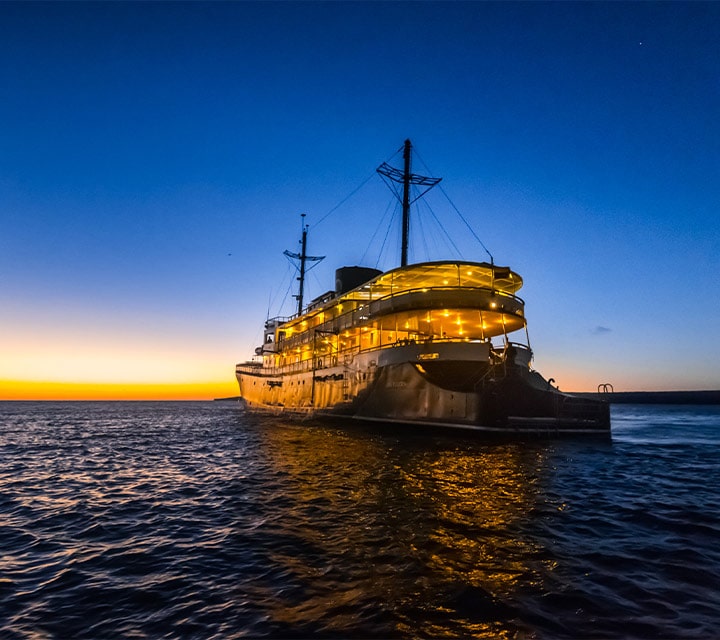 As opposed to other similar awards within the industry, Travel & Leisure does theirs a bit differently. Voters are only allowed to vote once, and each of their personal comments is reviewed by a panel of judges at Travel & Leisure to give Quasar Expeditions an overall score. This year, thanks to the votes and fabulous comments from our partners and past guests, Quasar Expeditions came out at the top again in 2021, with an overall score of 97.99. We garnered scores of 99.07 in 2019 and a higher score of 99.17 in 2020, which beat our 2018 score of 98.33.
If you haven't yet picked up the 2023 World's Best Issue, it is already in stands. Here is an official statement from Travel & Leisure about Quasar Expeditions:
This is the 6th year in a row that Quasar has taken top honors in the small-ship ocean cruise lines category. Fewer than a dozen hotels, resorts, and tour operators had scores above 97 in this year's World's Best Awards, and Quasar was the only cruise line to notch such an eye-popping number. This small-ship brand simply wowed readers with its trips to the Galápagos Islands aboard its two distinctive yachts, the 16-guest M/Y Grace and the 32-guest M/V Evolution." — Travel & Leisure Magazine
When the official notice came out, the initial surprise and the moments of wide-eyes and mesmerized, incredulous smiles began to morph into a more real and even humbling understanding of our accomplishment. As is natural, we began to analyze how we accomplished this feat again, so as to make sure this recipe remains unchanged. We soon realized that, as per our philosophy, it's not as much about "how" we did it, but more about the "why" we do anything we do to begin with. The why comes first, then comes the how, and pretty much everything else follows.
So, why did we achieve this wonderful award? Here are couple of words that are a true and honest part of Quasar Expeditions' heart:
PASSION: As many of you know, Quasar Expeditions started out from an authentic passion, a sincere love for one of the world's most inspiring destinations, which then expanded into new, equally amazing regions and experiences. For those of you unfamiliar with this incredible story, we encourage you to watch our Galapagos tours videos:
Why Quasar Expeditions?
At Quasar Expeditions, our mission is to fulfill the travel dreams of fellow explorers by creating unique and meaningful travel experiences at each of our destinations. We have been doing this since 1986.
WHY CHOOSE QUASAR EXPEDITIONS
INSPIRATION: Though life-changing destinations have played a tremendous part in inspiring us, an equally important influence comes from you and our guests. It is clients such as yourselves, and those special travelers that we have the honor of welcoming that continue to impel us, to influence us, to arouse deep feelings, thoughts, and ultimately actions for continued hard work, innovation and improvement. In short, a large part of our accomplishment is thanks to the inspiration that you and our guests provide us, day in and day out.
About Quasar Expeditions: A Family Story
In 1986, a recently married Ecuadorian couple by the names of Eduardo and Dolores Diez set out on the greatest adventure of their lives. With the help of a small office team in Quito and a small crew on the islands, the company that we know today as Quasar Expeditions was born.
EXPLORE OUR GALAPAGOS CRUISES
Download this MUST-HAVE GUIDE to avoid the mistakes that 90% of travelers make when visiting the Galapagos Islands.