With a passion for photography, wildlife, and nature, the Galapagos Islands were the obvious destination, but I wanted a trip where I didn't have to rough it. A dream cruise with lots of luxuries, a comfortable cabin, and a focus on photography was the focus of my search.
Luck was on my side: I found the perfect option with Quasar Expeditions. Offering the best of both worlds, the cruise company is well-known for Galapagos photo tours that combine a Galapagos luxury cruise with the opportunity to capture the islands' beauty while guided by renowned professionals. The photo-ops are practically endless from the remarkable landscapes where lava cacti grow among volcanic rock formations to the glorious colors of the sunsets.
The Galapagos At a Glance
The Galapagos is truly a one-of-a-kind destination. A UNESCO World Heritage Site made up of 13 major islands and dozens of islets located about 600 miles off mainland Ecuador, this is a microcosm of evolution with an other-worldly feel.
Created as a result of volcanic activity, as the islands were never connected to the mainland, to get there, animals had to fly, float, or swim. Larger mammals weren't able to make this journey, so the lack of predators allowed others to thrive. Many of the creatures here never learned to fear humans as there has been no reason to, which means travelers are in for some stunning close encounters.
Capture The Stunning Beauty of the Galapagos: the Highlights
The Quasar trip did not disappoint as one can easily see in the hundreds of photos I captured. I was practically tripping over the very chill and often entertaining sea lions right from the start!
Enhance Your Photography Skills
As I mentioned, you can never know enough when it comes to the art of photography, and learning from some of the best in the business with hands-on guidance is an incredible opportunity. Both pros and aspiring photographers can get a lot out of Quasar's Galapagos luxury photography cruise & tours, boosting knowledge through one-on-one instruction provided by highly experienced professionals.
During the daily land excursions, a lead photographer accompanies you to offer narratives and techniques, including tips on everything from lighting to capturing elusive animals. With workshops and lectures also hosted, you can dive deeper into what interests you most.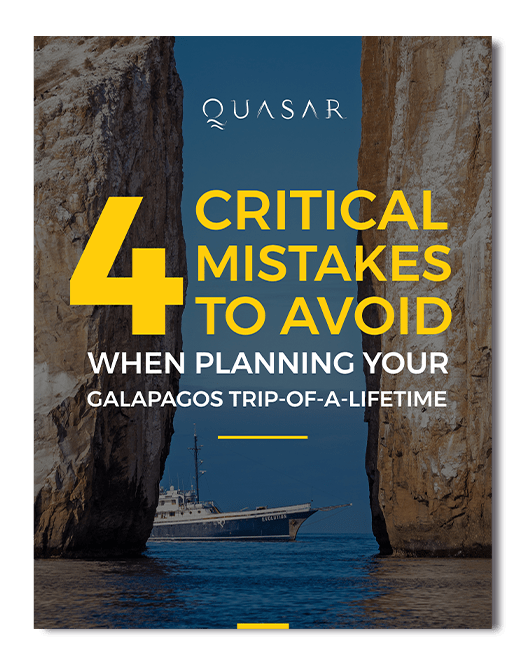 Interested in Visiting Galapagos?
Download this MUST-HAVE GUIDE to avoid the mistakes that 90% of travelers make when visiting the Galapagos Islands.
Be Present for Unbelievable Moments
Galapagos photo tours with Quasar have to be the very best way to explore this entire archipelago. While it's possible to stay at a hotel in one of the port towns and take day tours from there, the vast majority of the archipelago is off limits to human establishments. That means a liveaboard ship is the only way to access most of the visitor sites. These vessels can cruise throughout all of the islands to access sites that can't be reached any other way or would take a significant amount of precious time, wasting a good part of the day.
With a Quasar liveaboard cruise, your crossings between islands are at night. When you wake up, you'll be at a new landing site, feeling refreshed and ready to go ashore, visiting places for up to 2 ½ hours, with kayaking, snorkeling, and panga/zodiac rides possible too. When traveling to such a far-flung destination, you want to make the most of it, experiencing the full spectrum of what the Galapagos offers and not just a small slice. That allows you to be present for those unbelievable moments, visiting inner and outer islands, including landing sites off limits to the day boats used by travelers staying at hotels.
Travel in Style
The award-winning Evolution yacht has an incredible history, allowing passengers to follow in the footsteps of Darwin himself in luxury and comfort with a modern twist on the roaring '20s style. Letting out an audible gasp after stepping aboard, I thought, "This is really going to be my home for the next week?" I was already wishing it was longer. After my Galapagos luxury cruise got underway, that feeling just got stronger.
Some of the highlights of the Evolution include:
Breathtaking views with 360-degree exterior walkarounds which allow you to see in every direction for capturing out-of-this-world photographs.
An intimate and laid-back environment with lots of space, thanks to the limited number of passengers (a maximum of just 32).
Renovated, spacious suites with private bathrooms and upscale amenities.
Plenty of privacy for enjoying alone time and common spaces for socializing
Exceptional hospitality provided by the friendly and professional crew.
Naturalist guides who bring Darwin's discoveries to life with 15+ years of experience.
And How's the Weather?
The Galapagos is a year-round destination which means there is no "off-season." No matter when you decide to go, you'll be able to marvel at abundant wildlife and incredible sites. For a tropical destination, it has a surprisingly dry, moderate climate with the weather characterized by two main seasons, the warmer, wet season from late December through late June and the cooler, dry season from late June through most of December.
In the wet season, daily afternoon showers are typical, yet the lower elevations only receive a limited amount of rainfall. The dry or "garua" season brings frequent overcast skies and the occasional drizzle, with the water temperatures lower, but the weather is generally pleasant. As it's cooler now, it's the breeding period for many Galapagos animals, from sea lions and fur seals to marine iguanas and birds.
A Luxury Galapagos Cruise that I'll Remember for a Lifetime
There's no doubt that this Galapagos cruise exceeded my expectations. Anyone who is searching through Galapagos photo tours or considering any kind of visit to these awe-inspiring islands should make Quasar a top consideration. Someday, I'd like to do it again. I'll never tire of watching the blue-footed boobies dance, the sea lions waddle about, and the wise-looking tortoises lumbering across the land.
The best cameras for Galapagos travelers, as well as other electronic equipment, ought to comfortably accompany you throughout your journey and help you make lifelong memories to share with family and friends back home. Learn more here --- Best Cameras for the Galapagos