Most Galapagos Islands cruises and tours will incorporate a series of activities throughout the archipelago, which include daily walks & hikes, snorkeling, zodiac rides (called pangas locally), sea kayaking, stand-up paddle boarding and more!
Knowing that you have all the clothing and equipment you need before you go, that it works and that it fits, will ensure peace of mind during your once in a lifetime Galapagos adventure. Remember to pack as light as possible, so that you can travel with ease around Ecuador and the Galapagos Islands.
The list of what to pack for a Galapagos tour is varied, but in this post we have simplified the process to get you ready from head to toe. Please note that the specific items we detail in each section of this video & content have been carefully selected to enhance your Galapagos experience.
You can also download a complete Clothing & Equipment Galapagos packing list to print and use as a guide when preparing for your Galapagos adventure. There's a link to this packing list in the form fill below. We also recommend you check out our Gear shop so you can see what each item on the list all is about. Link to the gear shop is also found in the content below.
IMPORTANT NOTE ON WEATHER
Because the Galapagos Islands are located right on the equator, weather in the Islands does not vary much throughout the year. Therefore, regardless of the time of year when you travel to the Galapagos, this packing list is all that you will need. The best way to experience and enjoy this natural paradise to its fullest is to come well prepared for all your daily activities and Quasar is here to help you with that.
The list of what to pack for a Galapagos cruise is varied, but in this video we have simplified the process to get you ready from head to toe. Please note that the specific items we detail in each section of this video have been carefully selected to enhance your Galapagos experience.
EXPLORE GALAPAGOS LUXURY CRUISES
JUMP TO EACH OF THESE PIVOTAL ITEMS TO PACK FOR YOUR TRIP TO THE GALAPAGOS: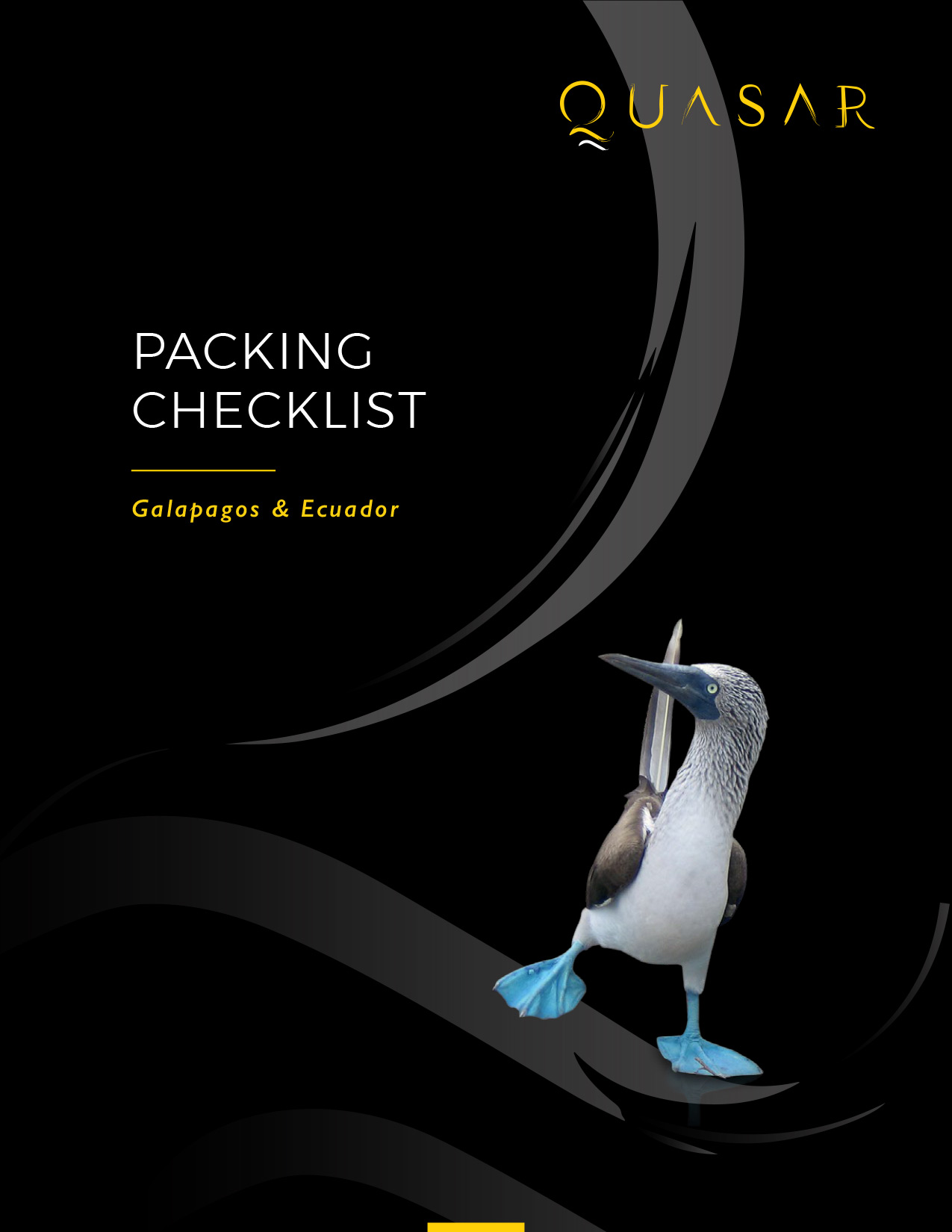 Download our detailed Galapagos Packing List Guide and you'll be well prepared to enjoy all your activities in Galapagos regardless of the weather.
THE BEST SHOES FOR A GALAPAGOS TRIP
For an enjoyable Galapagos experience, you will require 2 types of shoes: one for dry landings and one for wet landings. A dry landing is when you disembark from your zodiac or panga directly onto dry land, without getting your feed wet. A wet landing, on the other hand, is when there are no docks or dry landing disembarkation points on an island visitor site, and you must disembark directly into the water on the shore of a beach. Both types of landings are very common on all Galapagos trips, but especially on Galapagos Islands cruises.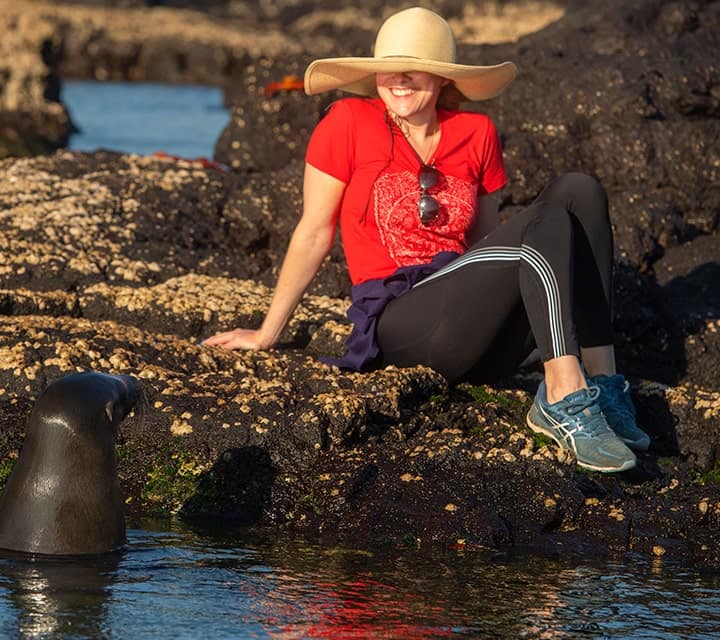 FOOTWEAR FOR DRY LANDINGS
For the island trails that have a dry landing, you will need to bring comfortable walking or hiking shoes with good traction. These will likely be the same shoes you use for any activities in Mainland Ecuador if you plan to explore the mainland before or after your cruise as well. Depending on how sure footed you are, regular running or trail shoes will often suffice as the ideal footwear for the daily walks and hikes around the islands. However, if you prefer a little more support, you may want to consider bringing hiking shoes, including models with ankle support.
FOOTWEAR FOR WET LANDINGS
Teva style sandals or water shoes are ideal for wet landings because they allow you to get your feet wet and to continue walking around the island beaches and the lighter trails without requiring an additional pair of shoes. On some trails, in addition to the wet landing footwear, you may also want to consider bringing your regular hiking shoes to change into them for a more comfortable hiking experience.
Crocs and other types of water shoes that can get wet are also good for the Galapagos, but please make sure they have good traction on the sole and that they stay firmly secure on your feet when disembarking in the surf. Flip flops or single strap sandals, although acceptable on deck, are not recommended for when disembarking on the Islands, either on wet or dry landings.
Important Note on Shoes While Onboard Your Boat:
On most cruises, the shoes you wear during landings are kept in a bin or in a shoe rack near the boarding zone of the yacht. If you want to wear these same shoes on board, you will need to wash the bottoms. However, we recommend having a light pair of deck shoes or sandals / flip flops for when onboard your yacht. Bare feet are also acceptable in most cruises (although on Quasar cruises, and many other cruises around the Islands, we do require you to wear shoes for dinner).
To summarize, here's a quick checklist of the footwear required for a Galapagos cruise:
1 pair of Good comfortable walking / hiking shoes
1 pair of Teva-style sandals or Water Shoes
1 pair of Deck shoes or Crocs
CLOTHING & WHAT TO WEAR WHILE IN THE GALAPAGOS
Here is a list of the regular clothing items that you should bring on your Galapagos luxury cruise adventure. This list includes items for the daily walks & hikes around the islands, as well as for the time you spend onboard your yacht. The quantities shown for each item are enough to last you for an entire 8-day cruise without requiring you to do laundry, but if you are traveling for less than 8 days or for more than 8 days, please calculate accordingly. Also, most cruise companies offer laundry service either onboard the yacht or on the days that the ship visits Port. Quasar does offer laundry service to all its guests, but please inquire with your cruise company whether it's available for you and if it's included or available at an extra cost.
During dinners onboard Quasar yachts, and onboard many other cruises around the Islands, Guests are encouraged to wear slightly different clothing than for the daily Island excursions. For men this includes long pants, dress shorts and dress shirts or polos. And for women, this includes long pants, skirts, blouses, or casual dresses. Wearing a bathing suit to the evening meals is not recommended.
Of course, this is only a suggestion and your choice of attire is entirely your own.
Here is the full list of clothing recommended for a week long Galapagos cruise:
4 or 5 T-shirts for when on the Islands (made from quick drying materials if possible)
2 polo shirts
2 short-sleeve button-down shirts
8 pairs of regular underwear
8 pairs of socks
2 to 3 pairs of hiking shorts
2 Dress shirts / blouses
1 or 2 pairs of Lightweight full-length pants (synthetic or cotton)
1 pair of jeans for traveling
2 pairs of Dockers pants or slacks for the evenings
2 or 3 swimsuits / swim trunks
WHAT TO WEAR FOR SNORKELING IN THE GALAPAGOS
Snorkeling in the Galapagos Islands is a major highlight for everyone visiting the archipelago, and especially for those who explore the islands on a cruise, as you get snorkel once or twice every day. The Islands are well known for their mixing of warm tropical and cold water currents, which means you can experience a wide range of temperatures even in one outing in the water.
Most cruise companies will provide their Guests with wet suits for the daily snorkeling outings. Quasar provides wet suits to all its guests at no additional cost, both in shorty and full sizes. For Guests who require a bit more insulation, especially between the months of June through December when water temperatures are slightly cooler, bringing a rash guard or skin to wear under your wet suit can be a very good idea (both top and bottom). This rash guard or skin can also help you to avoid getting sunburned when swimming around the Island beaches.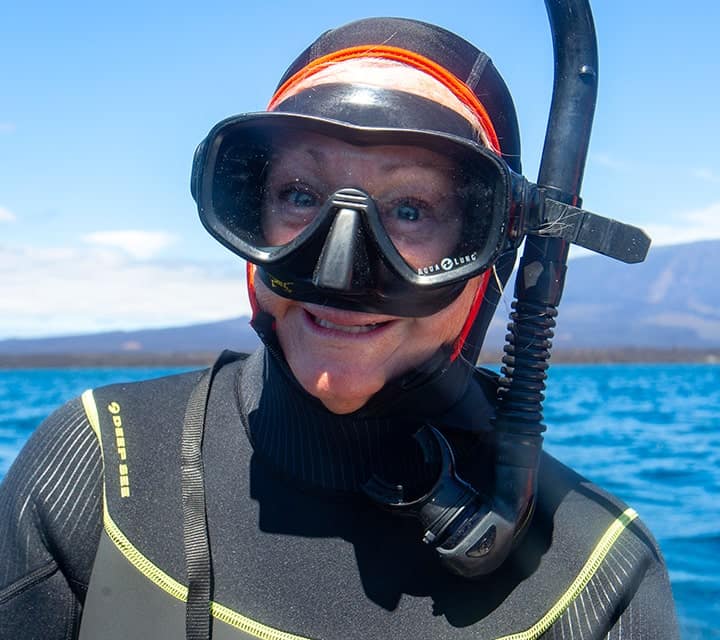 In addition to the wetsuits, Quasar and most cruise companies also provides their guests with masks, snorkels, and fins at no additional cost. If you have issues with mask sizes and fit, we do recommend bringing your own mask and snorkel for a better and more comfortable fit. Guests with poor eyesight may look into purchasing prescription masks that have become fairly inexpensive to purchase online these days.
While all the following items are provided for you during a Quasar cruise, if you do choose to bring your own snorkeling equipment, we recommend the following:
A full body wetsuit that is at least 3mm thick.
A good mask that fits your face well
A good snorkel with a purge valve at the bottom
A good pair of fins that are not excessively long (for ease of carrying)
SNORKELING GEAR & WETSUITS
Any good sporting goods store in your area can give you recommendations on good snorkeling gear for the Galapagos. Be sure to also refer to Quasar's Galapagos Climate & Weather page for details on water temperatures in Galapagos throughout the year. A link to this page can also be found in the description of this video.
To recap, here's a list of the clothing and equipment required for snorkeling:
A Rash Guard Snorkeling Skin / Top
A Rash Guard Snorkeling Bottom
A Snorkeling Mask (provided on Quasar cruises)
A Snorkel with Purge Valve (provided on Quasar cruises)
A 3mm wetsuit either in full or shortie format (provided on Quasar cruises)
Snorkeling fins (provided on Quasar cruises)
HATS, JACKETS AND OTHER OUTERWEAR FOR THE GALAPAGOS
The items detailed in this section are frequently needed when it gets cooler in the Islands during the evenings, which is the time you will experience more breezes as you cruise to another location. Also, if flying into the city of Quito, Ecuador before your Galapagos Islands trip, please remember that it can be cool and it can get downright cold if you go higher into the mountains. So please pack accordingly.
We recommend:
Light and warm Jacket or Fleece
A Wind & water-resistant light Soft-shell Jacket
A Rain Jacket or Parka (for Quito and other visits in the mountains)
A Hat or Baseball Cap
THE BEST CAMERAS FOR THE GALAPAGOS & OTHER ELECTRONICS
Photography is a highlight of any trip to the Galapagos Islands or to Mainland Ecuador. The best advice when it comes to camera equipment, is to bring a camera and a format that you are very familiar with and know will give you the results you are looking for. If you buy new camera equipment for your Galapagos Islands cruise, we highly recommend that you take time to become familiar with your new gear before you head out on the trip. And bring plenty of memory cards.
For amateur photographers, while a good zoom lens can come in handy and render excellent up-close results, you probably don't need anything larger than a handheld lens that does not require a tripod in the Galapagos, and that's because it's fairly easy to get close to wildlife. For more experienced and professional photographers, you will want to bring a series of lenses, including a long lens for wildlife photography, as well as a steady but relatively light tripod.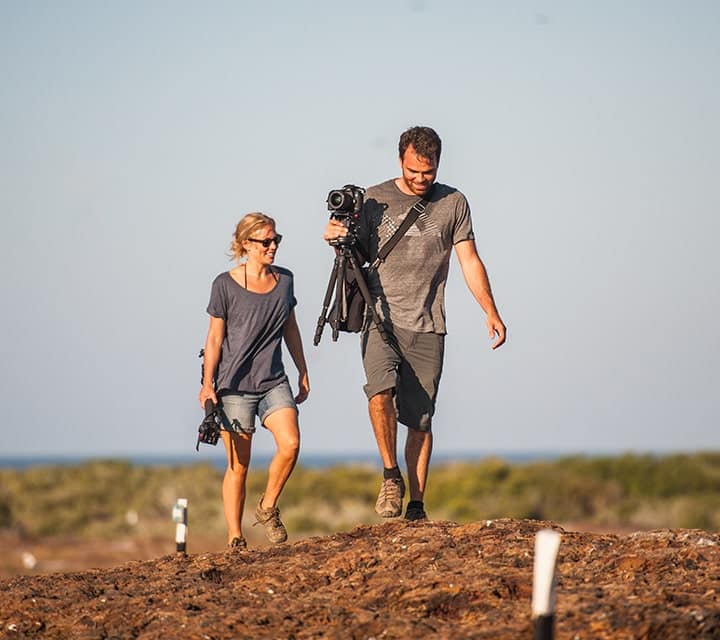 Because snorkeling is a highlight of any Galapagos adventure, the Islands are a great place to bring along a camera with an underwater housing like a GoPro. The islands are an excellent place to make home videos, so having a camera that you can use above and below water that shoots both photo and video is a good idea.
Important note on camera equipment:
Sand and seawater are the enemies of any optical or electronic instrument. Please keep this in mind when considering what equipment to bring. A good safety measure to take for any photographic equipment is to bring dry bags or large high quality zip lock bags with a zipper locks to keep your camera in, especially when crossing to shore.
Here is a final list of some additional recommended items to pack:
A Good digital SLR camera
An International outlet converter (plugs on our boats are 110V Type A, with 2 flat prongs – this is the standard plug for North America)
Two or 3 high capacity memory cards for your camera (if you plan to shoot a lot of video, plan to bring more)
Extra batteries
Sturdy camera case
Dry sack (you can use same one we recommended on the Gear section)
Netbook, iPad or small laptop to download photos (optional)
Sport or waterproof sunblock (SPF 30 or higher) – this is essential for the equatorial sun in the Galapagos.
Binoculars
Insect repellent (for certain times of the year in the Galapagos) – But if you are traveling to the amazon you will certainly want to bring insect repellent as well.
Reusable Water bottle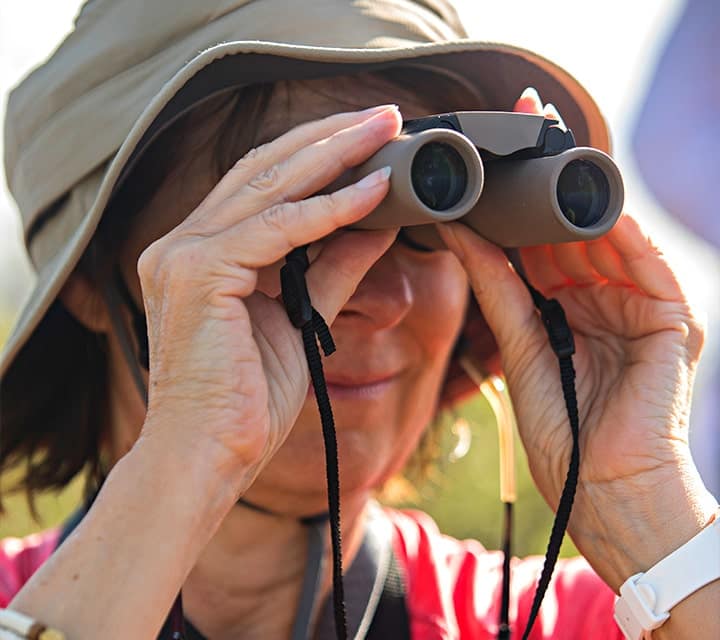 Finally, while Quasar provides all its guest with reusable water bottles at no costs, depending on the cruise company you are traveling with, you will certainly want to bring a reusable water bottle as well. We want to minimize the use of plastic in the Galapagos Islands
BACKPACKS, DAYPACKS AND LUGGAGE FOR A GALAPAGOS TRIP
Now that you have a good idea of everything that you need to pack for an enjoyable Galapagos adventure, it is important that you bring the right kind of luggage and backpack to fit it all in.
LUGGAGE
A good, durable, medium-sized duffel bag is the ideal bag to carry your clothing and gear for a Galapagos cruise. Models that have wheels and a handle are best for ease of carrying around airports. Additionally, on smaller ships where space is more limited inside your cabin, duffels will easily fit under the bed, whereas a large hard-shell suitcase will not.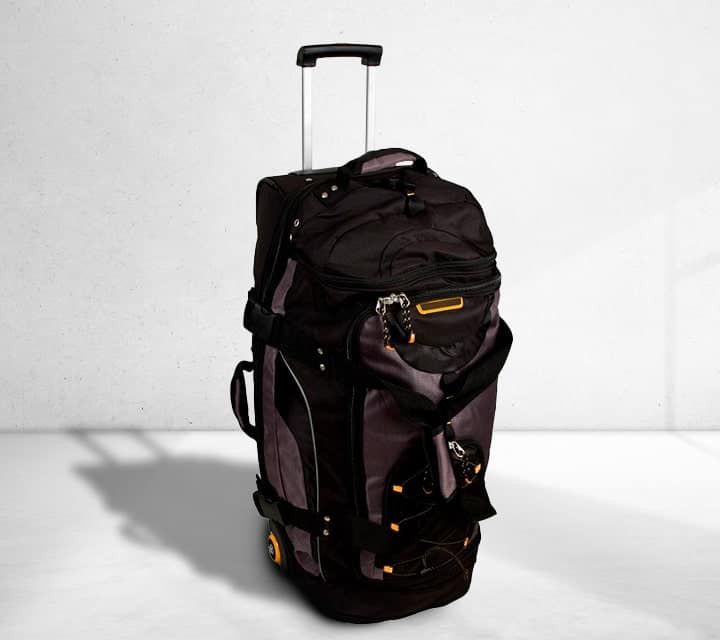 BACKPACKS
For the daily activities around the Islands, a good daypack is essential to carry extra clothes, your water bottle, camera, towel, sunblock, and more. If this day pack is waterproof, or if it comes with a waterproof cover or pocket, even better. Keeping your gear dry while on the zodiacs or during wet-landings is important. If your day pack is not waterproof, you can also bring a dry-sack, which will keep everything dry in case the entire pack gets wet.
Here's a summary of the luggage and backpacks you need:
Rolling medium-size duffle bag
Waterproof day pack
Dry sack (13 - 20 liter capacity)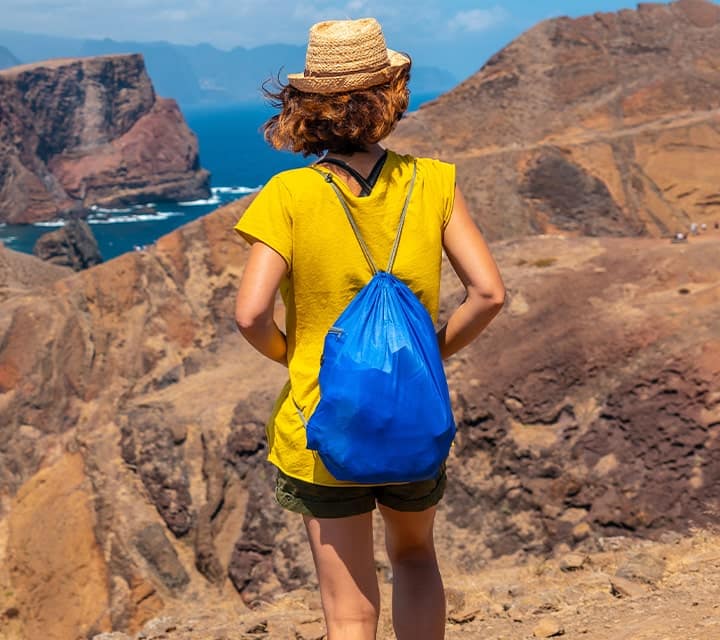 Conclusion

Quasar wants to prepare all its Guests for the best possible Galapagos Islands adventure, and packing the right clothing and gear is an essential step in the planning and preparation process. We hope you've found this detailed Galapagos packing list post useful, and please remember to download our detailed packing checklist using the form fill above, as well as paying a visit to the Quasar Gear Shop to visually see each item on the list.