The Galapagos Transit Control Card is an immigration control measure set by INGALA, the Ecuadorian Governmental agency that regulates all things pertaining to the Galapagos Islands. This card is designed to help control migration to the Galapagos Archipelago, which boomed in the 1970's due to the lifestyle offered by the islands and the higher salary wages as a result of tourism.
INGALA instituted this card to help keep track of who is entering and leaving the Islands, and to monitor the duration of everyone's stay. It is like your own personal Galapagos ID and everyone who visits the islands must purchase the card before arrival to Galapagos.
You will not be allowed aboard a flight to Galapagos if you do not have a valid Transit Control Card and you will be required to show this card upon arrival to the islands.
How much does the Transit Control Card cost?
The cost per card is fixed at USD $20 per person, for both Ecuadorian nationals and foreigners, and is paid in cash only at the airport. Certain cruise companies, like Quasar Expeditions, allow you to prepay these cards along with your cruise.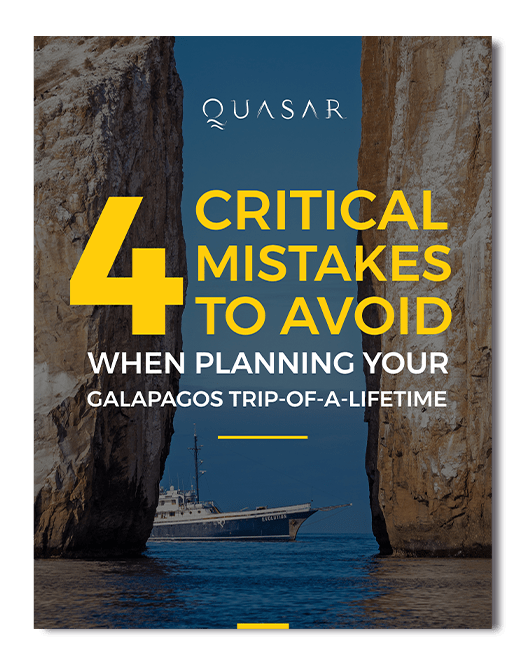 Interested in Visiting Galapagos?
Download this MUST-HAVE GUIDE to avoid the mistakes that 90% of travelers make when visiting the Galapagos Islands.
How do I get the Transit Control Card?
In both the airports of Quito and Guayaquil, where all Galapagos flights originate from, there will be an INGALA window in the domestic flights terminal. You will need to go to this window before you check in for your Galapagos flight and present a flight reservation or boarding pass and a valid ID / Passport to obtain your card. They will need:
Your full name
Passport or ID number
Nationality
Date of birth
The $20 one-time fee for the card is used by INGALA for many different purposes, including population monitoring on the islands, conservation and sustainable development projects and long-term planning for all aspects of life on the islands.
IMPORTANT NOTE:
If you are traveling with Quasar Expeditions and flying to the Galapagos on the same day your Galapagos luxury cruise begins, Quasar will purchase your Transit Control Cards in advance and our representative will have them waiting for you at either Quito or Guayaquil airport when you arrive there to check on to your Galapagos flights.
However, if you plan to fly to the Galapagos a day or more ahead of your cruise or a day or more after it has begun, then you will have to purchase your own card using cash ($20) at the airport kiosk. In this case, we suggest you plan to arrive at the airport at least 2 hours prior to your flight"s departure in case of lines.
FAQs for Galapagos Transit Control Cards
You can obtain it at the airport of Quito or Guayaquil in mainland Ecuador. Even before checking in with your airline, go to the INGALA/CGREG counter to purchase the Galapagos Transit Card. It costs 20 USD per person and is preferably paid in cash. Certain cruise companies, like Quasar Expeditions, allow you to prepay for these cards along with your cruise. IMPORTANT: Once you have your TCT, don"t lose it! They will ask for it once you land at the airport in Galapagos (either in San Cristóbal or Baltra) and they will also ask for it when you leave the islands. Therefore, keep it in a safe place during your entire cruise on the islands and avoid getting it wet or spoiled.
Once your luggage is checked, you will have to pay $20 (USD) to obtain the Transit Card. You can do it by card or cash. Keep in mind that the entrance to the Galapagos National Park can only be paid in cash. So if you don"t have much cash, you may want to use your card to pay the fee. Also, certain cruise companies, like Quasar Expeditions, allow you to prepay for these cards along with your cruise.
All visitors to the Galapagos Islands, whether Ecuadorian or foreign, must obtain a Transit Control Card prior to their arrival. The card must be obtained in advance, either online or at the airport in Quito or Guayaquil, and presented to the authorities upon arrival in the Galapagos. The Transit Control Card includes information such as the traveler's name, passport number, flight details, and length of stay on the islands. It also includes a set of rules and regulations that visitors must abide by, such as not bringing any prohibited items into the Galapagos Islands and respecting the fragile ecosystem. The Galapagos Transit Control Card is an important tool for the Ecuadorian government to manage and protect the unique ecosystem of the Galapagos Islands. Besides the transit control card, you will also need your valid original passport, mandatory medical and travel insurance & your Galapagos National Park entrance fee.