There's so much to see and do in Quito, Ecuador and the surrounding area that a proper "best of Quito" guide requires two parts. Continuing our blog, we'll delve into some more of the less-traveled destinations and excursions that are a bit further afield.
Antisana National Reserve
Bird Watching

The Antisana National Reserve is one of the best-kept secrets in Ecuador. A bird lover's paradise, it's home to everything from colorful hummingbirds to enormous condors. A tour from Quito begins early in the morning to provide plenty of time to take advantage of all the bird-watching opportunities.
You'll start in the canyon that leads to the reserve where you might catch sight of a condor warming up its wings, preparing to soar the Andean air currents. This is a great place to see high-elevation raptors like the Andean condor.
The greatest concentration of these large birds live right here on the paramo of the snow-capped extinct Antisana volcano. From the birding platform, watch for the flittering hummingbirds and everything from the black-and-red variable hawk to the occasional carunculated caracara.
Beautiful Views

Other highlights in the reserve include awe-inspiring views of three volcanoes, including Cotopaxi, Sincholagua, and Antisana. Antisana is often shrouded behind clouds, but when it makes an appearance with a backdrop of bright blue skies, there are few more spectacular views.
The tour also includes a hike around La Mica Lake. A high-altitude lake, it will transport you to what feels like a whole new world, despite being just over an hour's drive from busy Quito.
As you walk, you might see a herd of wandering alpacas or white-tail deer while condors and Andean ibis soar through the sky. Along the shore, keep an eye out for Andean teals, yellow-billed pintail, Andean ruddy ducks, slate-colored coots and a variety of other exotic waterfowl
Hacienda of El Porvenir
Hacienda of El Porvenir sits on the slopes of Ruminahui Volcano, 90 minutes south of Quito, Ecuador. It's just north of famous Cotopaxi National Park and its star attraction, the snowcapped Cotopaxi volcano. An authentic hacienda, it's a place where active adventurers can go mountain biking, hiking, horseback riding with chagras (Ecuadorian cowboys), navigate a ropes course, or simply enjoy the atmosphere of a working ranch.
It's possible to stay for the day or overnight, enjoying a multi-day adventure. Dining is impressive, with dishes made from locally sourced ingredients, including some produced or grown right on the property, like cheese, milk, herbs, and vegetables. If you want to learn how to make some of those tasty meals, the chef offers cooking classes, too.
Cotopaxi Sanctuary Lodge
Cotopaxi Sanctuary Lodge is situated in the same Andean paramo not far from Hacienda El Porveni. It's a unique adventure center offering multi-day stays in a setting with forests, vast grasslands, streams, and waterfalls inhabited by Andean fox, red brocket deer, and even wild horses.
There is an extensive network of private trails for hiking, biking, and horseback riding right on the property. After a day of exploring, you can look forward to enjoying delicious local fare using fresh Andean ingredients, inviting social areas, and spacious dome accommodations.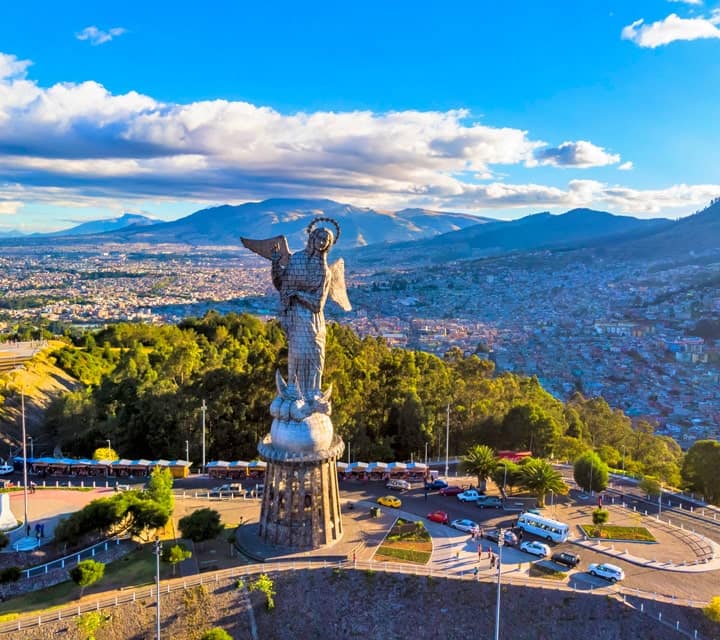 Mashpi Lodge
Ecuador is renowned for its cloud forests, which are some of the most intact in the world. They're incredibly rich in biodiversity, with a wealth of flora and fauna. While there are several lodges for overnight nights, the crown jewel is the five-star Mashpi Lodge.
Just over three hours northwest of Quito, Ecuador, guests can enjoy nature hikes, view hummingbirds, visit a butterfly farm, and experience slow rides on a zip line with a chair for a spectacular canopy view. The views from the lodge itself are breathtaking and both the food and accommodations are as impressive as the surroundings. While you'll need at least two days and an overnight stay, three days and two nights are ideal.
Yanacocha National Reserve
If you don't have time for Mashpi Lodge, Yanacocha National Reserve protects a high-altitude cloud forest and it's only a little over 17 miles northwest of Ecuador's capital city. There are eight trails ranging from easy to moderate for exploring while enjoying magnificent views of the lush mountains and valleys. At the end of the main trail, there are several hummingbird feeders that attract everything from betel tails and sapphire wings to buff wings and sword bills.
If you want to combine a visit to Quito, Ecuador, an Amazon adventure, and Quasar's Galapagos Cruise of a lifetime, contact us to book your next trip today!

To read Part 1 - The Best of Quito, Ecuador