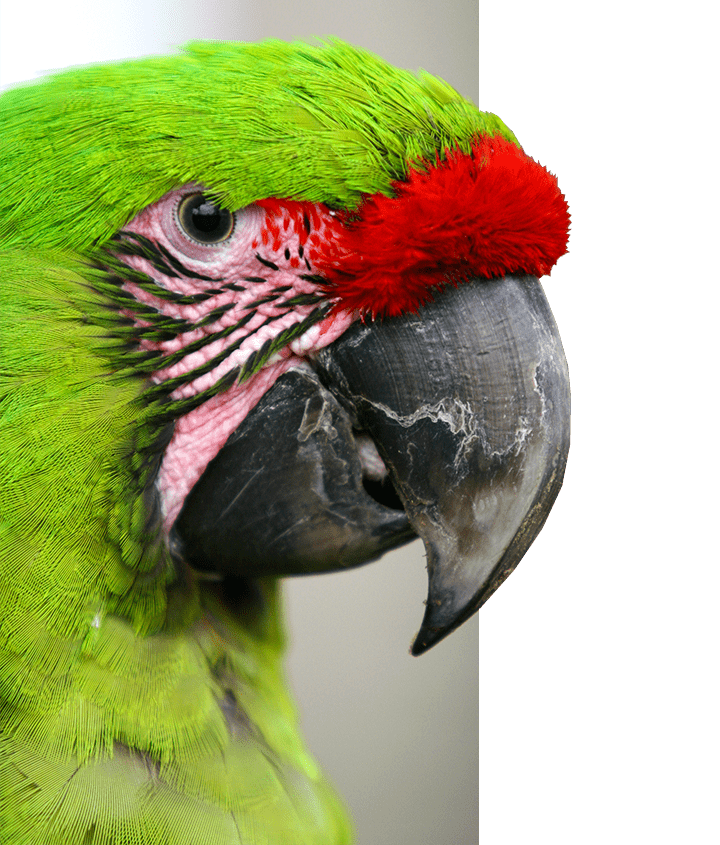 The Galapagos archipelago was recently ranked among the best islands to visit by Travel + Leisure, but there is a lot to explore in mainland Ecuador, too. The Republic of Ecuador is nestled between Peru and Columbia, straddling the equator that gives the country its name. With the help of Quasar, it's easy to discover multiple hotspots in one trip to Ecuador, from the magnificent capital of Quito to the Amazon and the Andes. After all, blissful, hassle-free travel is the Quasar Way.
An intimate Galapagos luxury cruise on a luxury yacht with Quasar not only avoids the big ship crowds but comes with many other benefits that those large cruises don't offer. It's a more authentic excursion thanks in part to the expert insights of our experienced travel staff. Discerning travelers will reap the rich rewards that come with connecting to the friendly Ecuadorian people as well as the country's rich culture and history, traditional cuisine, and stunning nature.
Where to Begin Exploring Ecuador
If you're wondering which airport to fly into when visiting the Galapagos Islands and another one or more of its adjacent destinations, the answer depends on what you'd most like to see and do in Ecuador.
There are two main international airports. The first is Old Mariscal Sucre International Airport that serves Quito, the high-elevation capital in the Andean Highlands at an elevation of 9,350 feet. José Joaquín de Olmedo International Airport is the other one, and it serves Guayaquil, the country's second most populous city and the capital of the Guayas Province. The port city sits at sea level and is a popular gateway for both the Galapagos Islands and the Pacific coast beaches.
The Galapagos Islands may be Ecuador's most visited region, but surprisingly, there are no direct international flights that will get you there. You'll have to fly into either Quito's or Guayaquil's airport and then catch a flight from mainland Ecuador to the Galapagos, which Quasar will arrange for you.
These flights depart from Quito and make a brief stop in Guayaquil before continuing to the islands and return the same way: Galapagos to Guayaquil to Quito. That means that whether you choose to land in Quito or Guayaquil, you'll be able to fly to the Galapagos.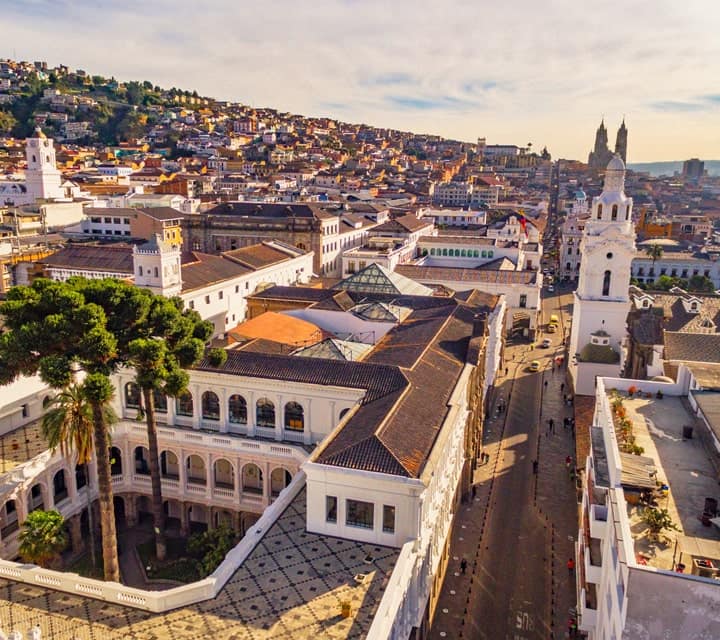 Quito
Quito is a magnificent city, tucked into a valley framed by dramatic volcanic peaks. The old town is one of the most well-preserved colonial centers in South America. It was named among the very first UNESCO World Heritage Sites in 1978, featuring grand architecture, countless museums, and beautiful parks.
Calle la Ronda is one of the artsiest and oldest streets in the city and is lovely for a stroll, while popular Plaza Grande offers the chance to watch the changing of the guards. Even if you extend your stay just an extra day or two, Quito is worth exploring.
From the capital, there are many day trips that can be enjoyed, including the lush Cloud Forest which hosts an abundance of wildlife and offers all sorts of opportunities for outdoor adventure. One of the most popular things to do is to ride a cable car across the forested valley which will bring you to a hike leading to multiple waterfalls. A refreshing dip in one of the pools that lie beneath the cascades is the perfect reward.
There are hot springs spas to relax in and volcanoes to hike. That includes the Avenue of the Volcanoes, a 200-mile-long ridge that stretches south of Quito. It's home to the highest volcanic peaks, like Chimbarazo and Cotopaxi. At over 19,000 feet, the Cotopaxi is one of the world's most active volcanoes, erupting around four dozen times since the mid-1900s.
Flying in and out of Quito is recommended for most travelers simply because the Andes region that surrounds it offers so much to see and do. From here, you can easily hop on a 45-minute flight followed by a river ride to immerse yourself in the Amazon jungle with its renowned wildlife and world-class eco-lodges.
Guayaquil
For some travelers, Guayaquil might be the better choice to fly into and out of. That includes those who plan to visit Machu Picchu or other parts of Peru after a Galapagos cruise, since it will be easier to fly back to Guayaquil.
For travelers who are concerned about altitude sickness, Guayaquil is the obvious choice, located at sea level, as compared to Quito at 1.77 miles above.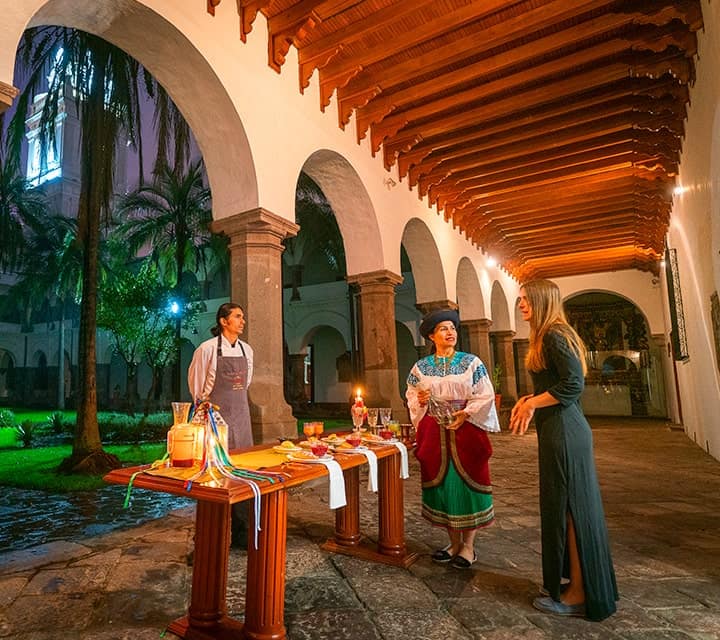 The Bottom Line
Whether you fly into Quito or Guayaquil, we highly recommend that all visitors to Ecuador arrive at least two days before departing for the Galapagos. That allows cushion time to ensure you'll be able to catch your scheduled Galapagos flight and arrive in time for your Quasar cruise should your international flight or luggage be delayed.
Quasar Does it All For a Seamless Trip that Makes the Most of Your Time
For unforgettable journeys through Ecuador and the Galapagos, you'll want to have the knowledgeable staff at Quasar by your side. Quasar delivers 24/7 customer support and will work with you to create the trip of your dreams based on your budget and interests.
Travelers will enjoy streamlined transfers, comfortable and safe accommodations, and vibrant cultural experiences in mainland Ecuador. Fully insured tours, cost savings, and passionate bilingual drivers and guides are all part of the package.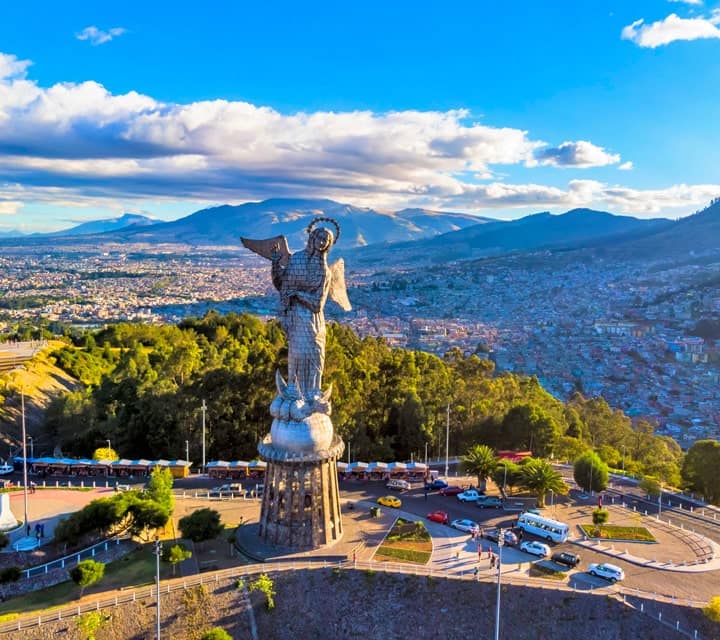 As you make the most of this bucket-list escape, you can feel good about it since a portion of Quasar's profits are dedicated to community and recycling programs. Contact us today to book your next Ecuador tours adventure!