Imagine following a pod of dolphins as they weave their way from stern to bow, watching an orca toss a sea turtle in the air like a balloon, or marveling at a school of manta rays somersaulting out of the water. Picture watching the best mesmerizing sunsets while the planets rise, and gazing at stars in the Northern and Southern Hemispheres simultaneously. These are just a few of the natural marvels you can witness from the best Galapagos cruises, designed with lounges, shaded spaces, and open deck plans to bring you ever closer to once-in-a-lifetime wildlife encounters and unobstructed views of the Galapagos. What are some specific features to look for or avoid in choosing the best Galapagos cruise yacht that enhances your journey? Follow this 5 question guide to narrow down your best Galapagos yacht options:
Best Intimate-ship Ocean Cruise Line
Quasar Expeditions has won Travel+Leisure World's Best Award for the Best Intimate-Ship Ocean Cruise Line for 6 years in a row. Quasar takes pride is being the top company for the Best Galapagos Cruises, and just won again in 2023.
Travel+Leisure on Quasar's 2023 Best Cruise Award:
This intimate-ship winner may have only two vessels, the 32-passenger Evolution and Grace, which accommodates 16, but it's a perennial favorite of T+L readers. "We had an absolutely amazing trip aboard the Evolution," said one voter, summing up the sort of feedback that readers love to share about Quasar. "I don't know how Quasar does it, but their crew, guides, and staff have extraordinary energy and motivation." The line's Galápagos Islands cruising grounds are one element of the score — who wouldn't want the chance to sail around the wondrous archipelago? — but the crew of Quasar's vessels are what really make all the difference, respondents say. "My mother is deaf and was personally assisted by the physician on board during our snorkeling expeditions. He learned a few signs and helped my mother feel more confident in her snorkeling skills," one voter raved. As another respondent put it, "​​Quasar and their staff made this cruise a true trip of a lifetime."
In the cruise industry, the general thinking is that more is better, because more passengers generates more revenues. In Galapagos however, that thinking undermines the key reason for going in the first place: peak animal encounters. Your experience in the Islands is the #1 priority and only small adventure yachts deliver the best Galapagos cruise experience.
EXPLORE LUXURY GALAPAGOS CRUISES
In the cruise industry, the general thinking is that more is better, because more passengers generates more revenues. In Galapagos however, that thinking undermines the key reason for going in the first place: peak animal encounters. Your experience in the Islands is the #1 priority and only small adventure yachts deliver the best Galapagos cruise experience.
EXPLORE GALAPAGOS LUXURY CRUISES
#1. Find a company with a crew made up of the best Galapagos cruise experts and guest service specialists
A passionate, experienced crew is perhaps the most important feature of any of the best Galapagos cruise yachts. They are the friendly engine that makes your trip of a lifetime run smoothly. Rule of thumb: When choosing which of the best Galapagos cruise company to set sail with, opt for the best crew with the most experience. The best Galapagos cruise companies that have been around since the very beginning of Galapagos expeditions know the ins and outs of what guests are looking for, and they have employed the best team of experts for over 20 and 30 years. A crew of the best Galapagos enthusiasts and experienced guest service specialists will go to great lengths to make your trip one to remember, such as:
Sharing their passion for food through incredible happy hour fare and 5-star cuisine.
Immersing you in the landscape and wildlife of the Galapagos with naturalist expertise and insider access tours.
Guaranteeing a high crew to guest ratio to ensure your needs are met, from the most seasoned adventure guides to hand-picked executive chefs.
Cleaning your cabin twice daily and adding delightful touches, like towel animals and daily chocolates, to welcome you back to your stateroom.
#2. Make sure you will be able to move freely around the yacht & there are no deck and viewpoint layout limitations.
With an average annual high of 82˚F/28˚C, the Galapagos is one of the best cruise locations in the world to experience a year-round equatorial ocean climate and the thrill of breathtaking natural beauty. There truly is not a 'Best time to visit the Galapagos'. Choosing the best Galapagos cruise ship with a open deck plan can be the difference between feeling part of the Galapagos Islands and feeling blocked off from them. Surprisingly, some Galapagos vessels are configured with restricted deck space, minimal viewpoint access, and confining smoked glass.
Avoid Galapagos cruise ships with these layout limitations:
Barricaded sun decks on top of the vessel that hinder your ability to look out over the side.
Tiny balconies that chop up the cruise ship's exterior and impede your ability to walk freely around the deck.
Confined interiors wrapped in smoked glass, which can contain your views, restrict strolls around the sides of the yacht, and block your access to the bow and stern.
#3. Find out if the yacht you like is a smooth-sailing monohull yacht, or a noisy catamaran.
Although monohull yachts provide a smoother ride through the crystal blue waters of the Galapagos, many travelers mistakenly consider catamarans as a more stable option for the journey. Why choose a monohull yacht over a catamaran?
More stability. A catamaran navigating across a current can tilt between waves and swells, resulting in a less stable ride than a monohull yacht.
A quieter ride. Several Galapagos catamarans are made from fiberglass, which tends to vibrate more than does the steel used in the hulls of most monohull yachts.
More freedom onboard. Due to size and design, most of the Galapagos vessels that have more restricted deck access are catamarans.
A better sleep. In rougher nighttime seas, waves can rise and strike the raised bottom of a catamaran, like striking a drum. This results in a noisy ride especially when you are trying to sleep. Monohull yachts simply cut through and ride over opposing waves without the thud.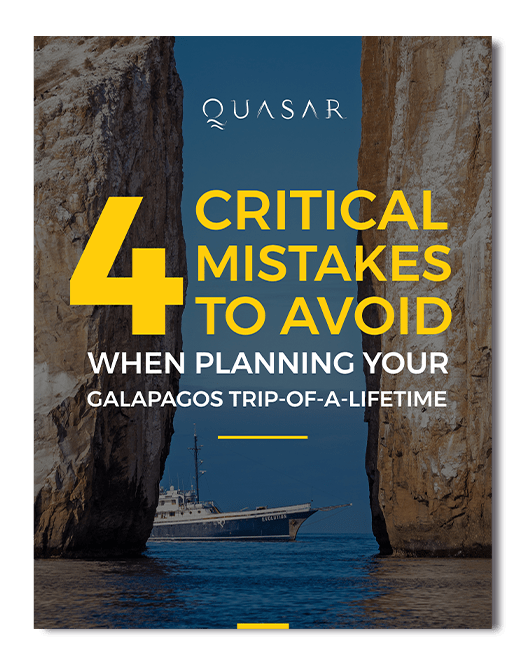 Interested in Visiting Galapagos?
Download this MUST-HAVE GUIDE to avoid the mistakes that 90% of travelers make when visiting the Galapagos Islands.
#4. Make sure the yacht's staterooms are better designed to enhance the best Galapagos experience, instead of created to be the highlight of the experience.
On true expedition cruises, time in your cabin will be spent largely on sleeping, showering, and post-lunch siestas. However, travelers planning for the best Galapagos cruise voyage often mistakenly spend a large portion of their research on which cabin to choose. You will find that upon your return home, memories of your interior cabin quickly fade – while the vibrant memories of outdoor experiences remain. Quick tip: Don't make the cabin the main focus of your cruise decision. Look for the best Galapagos companies that combine open yacht spaces, outdoor activities, expert guides, and adventure excursions to find the perfect Galapagos expedition.
Quasar Expeditions itineraries include two landings and two snorkeling outings per day, along with kayaking and dinghy rides – not to mention multi-course meals, happy hours, and tour briefings. Our private staterooms prioritize comfort for high sleep quality, so you can make the most of your Galapagos cruise itinerary.
#5. Find out if the yacht is equipped with bonus amenities that will enhance the best Galapagos experience.
Certain amenities, like oversized jacuzzis, dive decks, and shaded sun decks can enhance your outdoor experience and offer easier access to the Galapagos.
For the best Galapagos cruise experience, choose a yacht with these bonus amenities:
1. Oversized jacuzzis. Quasar passengers regularly comment on the pure bliss of jumping out of their wetsuit and into the oversized jacuzzi after a snorkeling excursion. Yachts with fewer passengers and larger jacuzzis ensure that everyone can easily warm up and relax after a day of Galapagos memory making.
2. Dive decks. Yachts equipped with only a gangway can slow the process of getting passengers onto dinghys for their Galapagos activities. Dive decks allow passengers to step right off the back of the yacht and onto their dinghy, which speeds up the time it takes to go ashore.
3. Shaded sun decks. Many Galapagos cruise ships have open top sun decks, which can be dangerous given the intensity of the equatorial sun. Look for yachts with plenty of shaded rooftop spaces.
4. Exterior ("al-fresco") dining areas. The equatorial air in the Galapagos is always warm and pleasant, and you won't want to miss a moment taking in the natural surroundings and wildlife sightings while you're onboard. After years of feedback and guest observation, Quasar Expeditions observed that guests rarely wanted to eat inside and therefore, enhanced their yachts with outdoor dining areas.
Explore the best Galapagos cruise ship layouts There are many cruise ship features to consider when choosing the best Galapagos cruise, but the yachts that will turn your trip into the adventure of a lifetime are symbolic of the Galapagos: spacious, majestic, and most of all, unique. Take a virtual tour onboard Quasar's Yachts: Grace Yacht or Evolution Yacht!
Other Questions When Choosing the Best Galapagos Cruise
Guest reviews of the best Galapagos cruises and crew:
"The crew could not have been more accommodating. No request was too much. They made us all feel as if we were their very best friends and that we were the most important people in the world." Jim Currie
"The crew was fantastic, very nice & courteous. They went out of their way to please us. We felt very pampered!" Helen Kuo
"Not only did they do their jobs, they did them with real, true care and concern for our experience." Rick Hulett
Expert Tip on Galapagos Travel:
Although Galapagos is great year-round destination, there are a few months of the year that we like to call the "secret months" because they offer visitors some key advantages over other months when it comes to weather and wildlife. The secret months for galapagos travel are in September, October, November and the beginning of December.
- Paul Schicke - Galapagos Expert at Quasar Expeditions