One of the greatest mistakes people make when planning Patagonia luxury tours is not budgeting enough time to savor the region's immense, breathtaking landscape, diverse wildlife population, and bountiful outdoor adventures. Any traveler who has hiked to the peaks of Base of the Towers, Torres del Paine National Park, been captivated by the majestic Perito Moreno Glacier or photographed the elusive Patagonia puma will tell you 3 days in Patagonia simply isn't enough!
If you're wondering, 'How long do I need to travel in Patagonia?', read on for the top 4 reasons to extend your trip to Patagonia, from one week, to... longer. Once you see the 8th Wonder of the World, you may never want to return home!
1. Consider the sheer size of Patagonia's national park system.
Patagonia is simply immense, with awe-inspiring beauty packed into every square mile. For scale, the Patagonia National Park System " is more than three times the size of the Yosemite and Yellowstone parks combined," stretching across 10-million acres of mountains, desert, grasslands, and glaciers shared by Chile and Argentina. Considering its vast size, diverse landscape, rare wildlife, and the many outdoor adventures you can choose from, the best way to see the whole of Patagonia is to drive by overland safari... and becoming fully immersed in summits, springs, sunsets, and solitude along the way requires one essential element: time.
When you visit & extend your trip to Patagonia, you have a unique opportunity to visit two countries, Chile and Argentina, and numerous polar opposite landscapes within one territory. Northern Patagonia, the region north of the Southern Ice Field, is lush and untamed, with crystal blue lakes. Southern Patagonia, on the other hand, is known for glaciers and world-famous parks, like Torres del Paine, El Calafate, El Chaltén, Los Glaciares, and Tierra del Fuego. Visitors get the most of of their Patagonia travel by allowing enough travel time.
2. Experience the wide variety of outdoor activities Patagonia has to offer.
The incredible diversity in terrain, wildlife, and sights has made Patagonia a top (perhaps the top) travel destination for outdoor enthusiasts. For example, Torres del Paine (in our opinion, the best national park in the world), has it all – forests, glaciers, rivers, lakes, fjords, ice fields, and rare flora and fauna.
"An unforgettable adventure" doesn't begin to describe the experience you'll have if you budget enough time to explore Patagonia.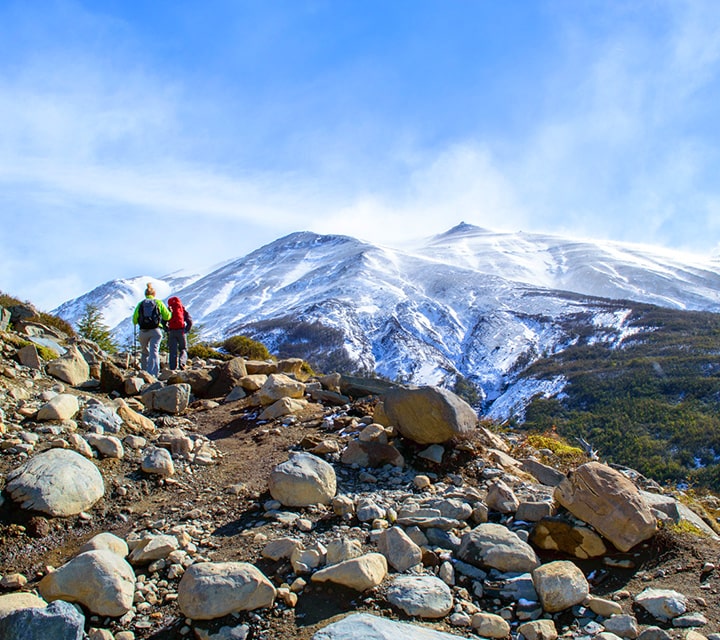 Outdoor adventures galore. Each park in Patagonia offers unparalleled opportunities for outdoor expeditions and experiences. Within just one region of Patagonia, you can hike, camp, kayak, and ice trek. Traveling across Patagonia by Jeep tour, you'll also have plenty of opportunities for fishing, boating, horseback riding, and even ziplining. There's really no outdoor experience you can't have in Patagonia – which makes it the perfect destination for adventure seekers, nature lovers, and those seeking a unique destination to enjoy.
Photography locations around every corner. Patagonia is a 10-million acre photo op. Featured on the cover of National Geographic's 100 Most Beautiful places, it's a true photographer's delight. Bring extra film and free up space on your cell phone to capture the timeless beauty of Grey Glacier, shadows dancing across the iconic Base of the Towers site, and sunset at Salto Grande, the second largest waterfall in the park. On Quasar's puma tracking expeditions, you will have the rare opportunity to photograph the world's biggest mountain lion.
World-class wildlife and bird watching. If you love flora, fauna, and animals, there's a wide array of wildlife, plants, and birds. You'll see hares, fox, deer, skunks, guanacos, and of course, the puma (the star of the show). As if you're watching BBC's Planet Earth come to life, the Patagonia's 600 species of animals inspire visitors of all ages.
3. Make room for relaxation time within all that adventure.
While Patagonia is best known for outdoor adventures, there are many opportunities to balance your expeditions with a little wining and dining. From world-class cuisine to breathtaking views and Patagonia's renowned spas, be sure to build in some extra travel time for relaxation and meandering about.
If you're looking to add a little (or big) dose of luxury to your trip, there are many five-star lodging options scattered throughout Patagonia. Tierra Patagonia Hotel & Spa, The Singular, Patagonia Camp, and Hosteria Helsingfors are sure to enhance your memories and rejuvenate your body after Patagonia excursions. For a truly unique Patagonia experience, allow yourself enough time to visit the underground ice bar in El Calafate and enjoy a well-deserved frosty drink.
While you're at it, why not tack three days on the front or back of your trip to see Chile's amazing wine country? Spend the night at the Matetic winery, an organic winery in the Rosario Valley. You'll stay in the Casona Matetic, a beautiful 19th century estancia and winery with gorgeous gardens and a private pool.
4. Build in time for traveling to and throughout Patagonia.
In addition to your international flight to South America, you will also need to build in some buffer time just to get to Punta Arenas from Santiago or Calafate from Buenos Aires. Because of Patagonia's vast size and long transfers, it's important to allow time for air travel and jet lag recovery.
Remember, Patagonia is almost double the size of Texas, so most important is allowing yourself enough time to travel throughout the region & to extend your trip to Patagonia. If you're opting for a Jeep Safari to navigate the rugged terrain, access the hidden corners of the parks not accessible by foot, and explore the unexplored, extra travel days will go a long way toward making your Patagonia adventure your most memorable yet.