Torres del Paine National Park
Facts & Information
Official Name: Parque Nacional Torres del Paine
English Name: Torres del Paine National Park
Year Established: 1959
Area: 935 sq. miles (2422 sq km)
Max altitude: Paine Grande Peak: 10,000 feet (3,050 meters)
Torres del Paine National Park is found between the Andes Mountain range and the Patagonian Steppe in the Chilean side of Patagonia. It covers an area of just over 2,422sq km (935 sq mi). The National Park holds within its boundaries a number of glaciers, lakes, rivers and valleys, as well as the famed centerpiece, Cordillera del Paine, where we find the two most recognized rock formations known as Las Torres (the three towering rock formations that give the park its name) and Cuernos del Paine (Del Paine Horns).
The park is located about 112 km (70 mi) north of the town of Puerto Natales and approximately 312 km (194 mi) north of the city of Punta Arenas. The Bernardo O'Higgins National Park neighbours Torres del Paine to the west, and the famous Los Glaciares National Park is located further north on the Argentine side of Patagonia.
Torres del Paine is a very popular destination for hikers from all over the world. The entire Park contains clearly marked paths and many "refugios" which provide basic services and shelter for backpackers. The views in the park are absolutely breathtaking. Visiting Torres del Paine is recommended from the months of October until late March or early April. During these months the weather is nicer, and daylight hours are long, due to the extreme southern latitude.
5 Critical Planning Tips That Make Or Break Your Patagonia Adventure
Download this MUST-HAVE GUIDE to avoid the mistakes that 90% of travelers make when visiting Patagonia.
How to get to Torres del Paine National Park?
The Torres del Paine National Park is located in Chile's Region XII, between the massif of the Los Andes Mountain Range and the Patagonian steppes, in Ultima Esperanza Province, community of Torres del Paine.
The Torres del Paine National Park is open all year round and is administered by the National Forestry Commission (CONAF), www.conaf.cl. Its entry gates are about 72 miles (115 kilometers) from Puerto Natales.
The Sarmiento and Laguna Amarga entry gates are open from 8.30 a.m. to 8.30 p.m., all year round.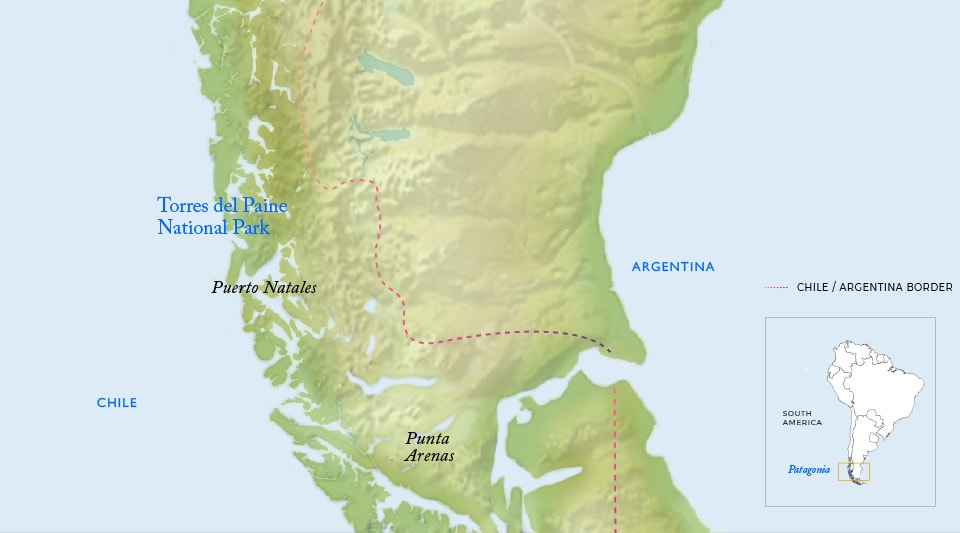 The Best Torres del Paine National Park Tours & Things To Do
ADD THESE DAY TOURS ON YOUR PATAGONIA SAFARI
Begin your epic Patagonia Overland Safari with Quasar, where your adventure unfolds in Chile and, in some itineraries, concludes in Argentina. Delight in the finest day tours and thrilling activities carefully curated for your exploration of Chile's breathtaking Torres del Paine National Park. Contact our Expedition Designers now and embark on the journey of a lifetime!
VIEW TOURS & EXCURSIONS
Patagonia Safari in Torres del Paine:
Common Distances Covered
Venture into the heart of Patagonia with a guided Overland Safari, immersing yourself in the hidden depths of Torres del Paine National Park and nearby attractions on a 7, 9, or 11-Day adventure with Quasar. A luxury vehicle safari offers the ultimate experience to make the most of your stay in Southern Patagonia, allowing you to explore both Chile and Argentina.
Distances in mi. & km.
Torres del Paine
Puerto Natales
Punta Arenas
El Calafate
(Argentina)
El Chalten
(Argentina)
Torres del Paine
-
113km / 70mi
357km / 221mi
348km / 216mi
497km / 308mi
Cerro Castillo
53km / 33mi
60km / 37mi
302km / 187mi
294km / 182mi
444km / 276mi
Puerto Natales
113km / 70mi
-
248km / 154mi
360km / 223mi
510km / 317mi
Punta Arenas
357km / 221mi
248km / 154mi
-
560km / 348mi
709km / 440mi
Chile's Torres del Paine
Information & Facts Overview