As summer draws to an end in the northern hemisphere, you're probably dreaming about where and when to vacation this year. If exploring Patagonia's wild and rugged national parks, glaciers and incredible wildlife is on your to-do list, here's 7 reasons to travel to Patagonia in the fall (September through to the beginning of December). Keep in mind that because Patagonia is south of the equator, you'll be heading into springtime as the snow melts and the flora and fauna is arguably at its best!
1. The Winds Drop
While Patagonia is known for its incredibly beautiful scenery, it's also got an accurate reputation for having unpredictable weather and relentless winds. However, the months of September through to November bring with them less ferocious winds than in summer when they often reach up to 120 miles per hour. If you're planning on enjoying the outdoors, aiming for the cooler but less windy conditions of these months can provide a more pleasant experience.
2. Fewer Crowds in Patagonia
While Patagonia is a remote destination regardless of which time of the year you go, choosing to travel before the peak season of Summer means there'll be fewer people to contend with for a more authentic Patagonian experience. With fewer visitors to the national parks of Torres del Paine or Los Glaciares National Parks, you'll have a wider range of hotel choices and increased wildlife activity during your trip.
3. More Chances to See Patagonian Wildlife
During the busy summer season, many of Patagonia's reclusive animals like the puma and huemul deer retreat from populated areas to avoid human encounters. So, if you're visiting before the crowds arrive in late September through November, you'll be much more likely to catch a glimpse of Patagonia's incredible wildlife.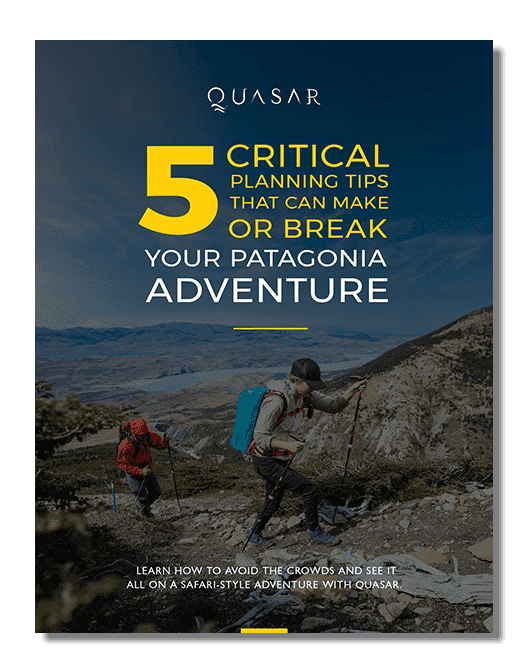 Interested in Visiting Patagonia?
Download this essential guide to avoid the mistakes that 90% of travelers make when visiting Patagonia.
4. Enjoy the Spring Blooms
Come to Patagonia in the Fall, when the snow has melted and the flora awakens and is in bloom. It is likely that you'll be greeted by a colorful carpet of alpine flowers set against the white snow-topped mountains. The greens are more vivid, the Chilean fire-bush is in full flower and there's an incredible energy that's created with this natural renewal, including being privy to the the offspring of the local wildlife.
5. The National Parks Are Fully Reopened
Although winter in Patagonia (May-September) is beautiful, and can be visited year-round. Many properties and activities have closed for the season. This period is known as the Secret Season (May-September) and is perfect for tracking the elusive pumas in Patagonia, as well as spotting many of the indigenous wildlife as there are fewer travelers to the area and animals come out of their hiding.
In the Springtime of Patagonia (September-November) the national parks of Chile and Argentina fully open, all activities are available and all properties have opened their doors, you can be one of the first on trails for the start of the season like the popular Paine Circuit in Torres del Paine National Park.
6. Celebrate the Fiestas Patrias
The Fiestas Patrias is a country-wide celebration of the Chilean Independence and with it, all things Chilean! It happens once a year on the 18th and 19th of September and is a great excuse to spend a bit of time in Santiago on route to your Patagonia adventure. Immerse yourself in the culture with vibrant parties, parades and traditional feasts.
7. Grab a Patagonia Safari Travel Deal
Last, but not least, why travel to Patagonia in September through November? To grab the savings, of course! Because there's fewer people visiting, you can often find great deals on flights, to make your Fall vacation that much more affordable. On our Jeep Safaris, You'll still get the seamless service as those traveling in peak season, just at a special reduced rate with more authentic and immersive experiences in the parks without the crowds.
Currently, we're offering specials on selected Patagonia Safaris for the Fall trips in September and October. For more information, click here: Patagonia Travel Deals.