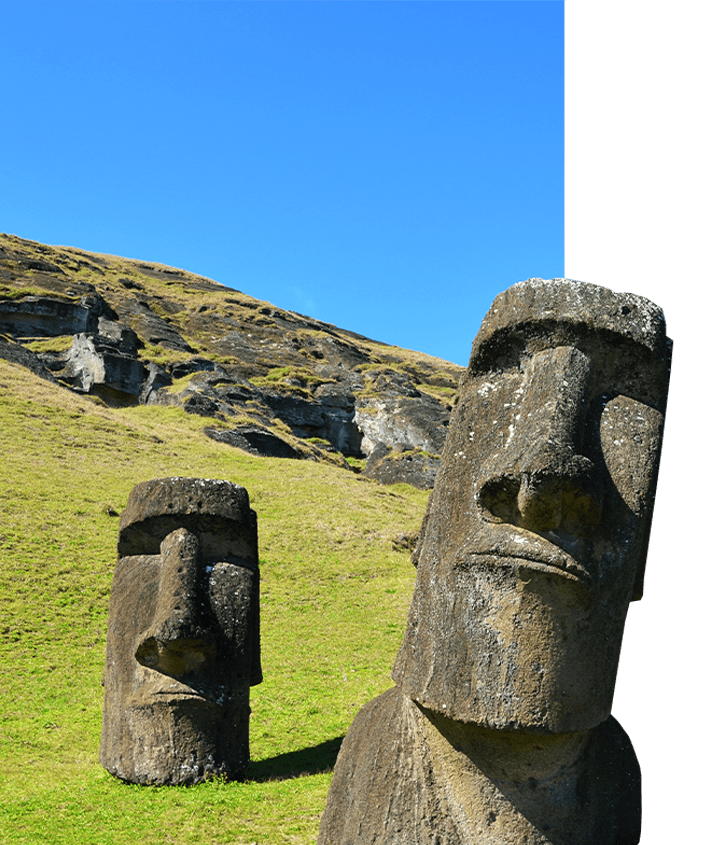 Some of the best UNESCO sites in the world can be discovered in beautiful Patagonia — Chile alone claims six of the fascinating features. From architectural innovation to ancient marvels to stunning seaports, the richness of Chile offers something special for everyone.
The definition of an UNESCO World Heritage Site:
A World Heritage Site is a landmark or area which is selected by the United Nations Educational, Scientific and Cultural Organization (UNESCO) as having cultural, historical, scientific or other form of significance, and is legally protected by international treaties.
Rapa Nui National Park, inscribed 1995
Valparaiso Region, Easter Island, Chile
Easter Island, among the most famous world heritage sites in South America, is known the world over for its uniquely powerful —and truly monumental— sculptures. Over 900 monolithic moai, or "Easter Island heads," bear a distinctive presence throughout Polynesia with their long noses and heavy brows. Each tremendous character towers well overhead, with an average height of thirteen feet!
Carved primarily from single pieces of tuff from Rano Raraku, many moai are buried up to their shoulders in the shadow of the volcanic crater. Today, Rano Raraku hosts three freshwater crater lakes, though it was once a bustling ancient quarry.
To the ancient artists, moai offered shelter to sacred spirits: the great stones served as homes to their ancestors and protectors, and bastions of safety watching over us all.
The Churches of Chiloe, inscribed 2000
Los Lagos Region, Chiloe Province, Chile
The Churches of Chiloe stand as another architectural triumph in Chile — and couldn't be more different from the moai! Built entirely of native timber and wood shingles, the sixteen churches date from the 18th and 19th centuries and are scattered along the eastern coast of the Chilean Archipelago.
The beautifully crafted churches offer a perfect example of mestizo culture: the style marries Spanish Jesuit culture and influence with local skills and traditions to create some of the world's best examples of Chilotan architecture. Rich, intangible, spiritual, and entirely unique to the region.
The Historic Quarter of Seaport City Valparaiso, inscribed 2003
Valparaiso Region, Valparaiso Province, Chile
Valparaiso joins Austria's historic City of Graz and Canada's Old Quebec among the world's most precious world heritage cities. A major urban, seafaring, and educational hub, Valparaiso has hosted travelers and explorers since the 1800's and is home to quite a number of South American firsts: Chile's first public library, Latin America's oldest stock exchange, and one of the oldest Spanish language newspapers, to name a few.
"The Jewel of the Pacific" for over 100 years, Chile's Cultural Capital is known for its cobbled streets, distinctive and brightly colored architecture, and fantastic urban nightlife. Wander the scenic coastline to get to know the city perched on the hill: its natural amphitheatre setting, celebrated (and growing!) cycle routes, and steep hillside "elevators" all offer an authentic taste of Chile.
Humberstone and Santa Laura Saltpeter Works, inscribed 2005
Tarapaca Region, Tamarugal Province, Chile
Now ghost towns in one of the driest deserts on Earth, the Humberstone and Santa Laura Saltpeter Works joined the list of Chile World Heritage Sites in 2005. The Santa Laura works were founded in 1872, and led to nearly 100 years of innovative extraction and successful mining operations.
The company towns that housed over 200 distance saltpeter works created a rich communal culture: the pampinos. Known for their language, creativity, innovation, and key role in the history of social justice, the pampinos struggled in a deeply hostile environment to bring immense wealth to Chile.
Sewell Mining Town, inscribed 2006
O'Higgins Region, Chiloe Province, Chile
Another fascinating relic of industry, Sewell stands with Humberstone and Santa Laura among the cultural world heritage sites of Chile and its mining tradition. However, Sewell's distinction comes not from the desert, but the mountains.
Sewell was built at an elevation of 2,000 meters on the slopes of the Andes — extreme climate doesn't even begin to explain life in Sewell. The town was meant to house workers from the Braden Copper company as they labored in the world's largest underground copper mine: El Teniente.
Brilliantly painted timber buildings, playgrounds, and plazas line the streets of Sewell, which is too steep for cars — access is limited to a gigantic central staircase, rising into the sky from the rail station. "The City of Staircases," Sewell is now largely abandoned, but celebrated among Chile's most important works of urban architecture.
Qhapaq Nan, the Ancient Andean Road System, inscribed 2014
Peru, Chile, Argentina, Bolivia, Colombia, Ecuador
Each of the Chile Heritage Sites is unique, but Qhapaq Nan offers a particular triumph of human craft. Roughly 25% of the network is still visible, the most famous portion being the Inca Trail to Machu Picchu.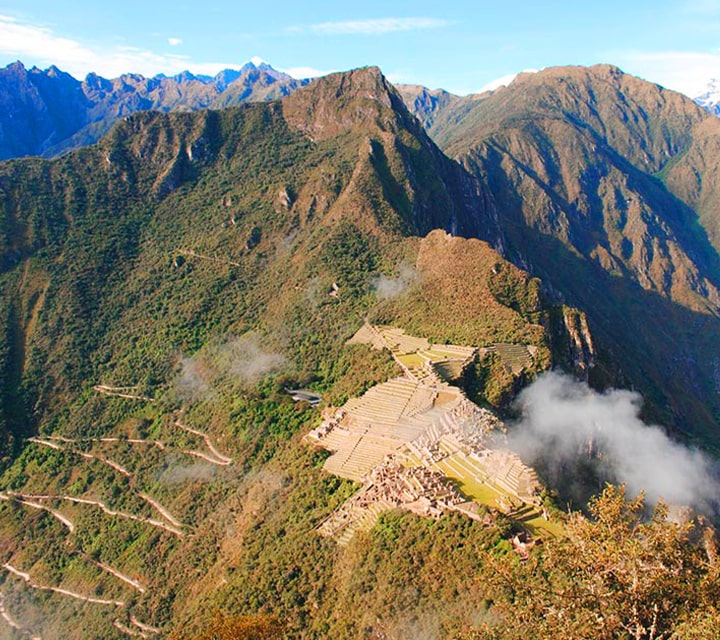 Communication, travel, trade, and defense all relied upon the network, spanning some of the most intense and daunting terrain in the world. Coastlines, rainforests, snow-covered peaks, lush valleys, and deep deserts could all be traveled by the Quapaq Nan — it wound across the complete length and breadth of the Andes Mountains.
At Quasar, we're lucky to count the adventure and beauty of Patagonia among our favorite destinations. Get to know more about our adventures through Chile, and how you can get to know these UNESCO treasures for yourself.