Unveil Patagonia's Best Kept Secrets
EXCLUSIVELY FOR ONLY 6 to 16 GUESTS
This 10 day/9 night Patagonia adventure explores the diverse layers, landscapes, and wildlife of both Chilean and Argentinian Southern Patagonia. Designed to take advantage of the most picturesque season, Wild Patagonia with Quasar & Limitles Explore unveils the region's best kept secrets... and a more adventurous version of every traveler.
On this privately Guided adventure, you will have insider access to the heart of southern Patagonia; exploring the wilds of Chile's Torres del Paine, and Argentina's Los Glaciares National Park, including El Calafate and El Chaltén. From trekking to the Granite Towers of Torres del Paine, to hiking on ice across Perito Moreno's icy landscape, or admiring the wonders of Mt. Fitz Roy, Wild Patagonia with Quasar & Limitles Explore delivers authentic experiences that will leave you recounting, "Words don't do it justice."
DESTINATIONS VISITED
Torres del Paine,
El Calafate
& El Chalten
ACTIVITIES
Trekking,
Ice Hiking, Immersion Tours & More
TRIP DURATION
10 Days /
9 Nights
ABOUT YOUR TOUR TRIP CURATOR, LESLEY MURPHY
Lesley Murphy is a TV personality, a travel journalist, a yoga teacher, and a mom. Her blog, TheRoadLesTraveled.com, features her adventures and photography from all over the world as well as an insight into her retreat business, LimitLes Travel. For the past five years, Lesley and her team have led hundreds of women around the world as they take on extraordinary itineraries, culinary experiences, giving back to local communities and striving to create change for the greater good. In addition to her worldly travels, Lesley is an advocate for women's health. In 2017, she underwent a prophylactic double mastectomy after finding out she tested positive for the BRCA 2 gene mutation. She's been a voice for others and brings awareness to the issue as she documents her journey each step of the way on her blog and social media. After giving birth to her first daughter in early 2021, Lesley is so excited to nurture and shape a fierce female while showing her the world!
LimitLes Explore is an extension of Lesley's LimitLes retreats where she curates an itinerary from the ground up with her favorite travel partners from around the globe. While she's not leading the trip this time around, the intention of LimitLes Explore is to continue to facilitate group travel with a curated itinerary and like-minded people in the most beautiful places on the planet. These trips foster connection, exploration, perspective, and something much bigger than herself. The common thread of Lesley's travel blog, LimitLes retreat series, and now LimitLes Explore has always been to encourage people to step out of their comfort zone to explore new landscapes and perspectives in the world, and in turn, themselves. While living in Argentina in 2015, Lesley fell head over heels in love with the beauty and rawness of Patagonia - all with the guidance of Quasar Expeditions. Many years and adventures later, Lesley has entrusted Quasar with all of her many Patagonia travels, and the southernmost tip of the world remains her favorite piece of earth.
The Limitles Explore Difference
SET THE PACE OF YOUR PATAGONIA ADVENTURE
With your private guide for such an intimate group, you are in complete control of your Patagonia adventure.
SEE WHAT OTHER'S DON'T WITH PROFESSIONAL GUIDES
Guides with over 15 years of experience in Patagonia take you off-the-beaten path to sites rarely seen.
ELEVATE YOUR EXPERIENCE WITH AMAZING ACCOMMODATIONS
Our Patagonia accommodations are destinations themselves, located in the best spots in and around the National Parks.
TAILOR THE JOURNEY OF A LIFETIME TO YOUR INTERESTS
Live Patagonia the way Ferdinand Magellan did: away from the crowds, with freedom to explore your way.
An Immersive Itinerary
ACROSS 2 GRAND NATIONAL PARKS
click
mouseover
to enlarge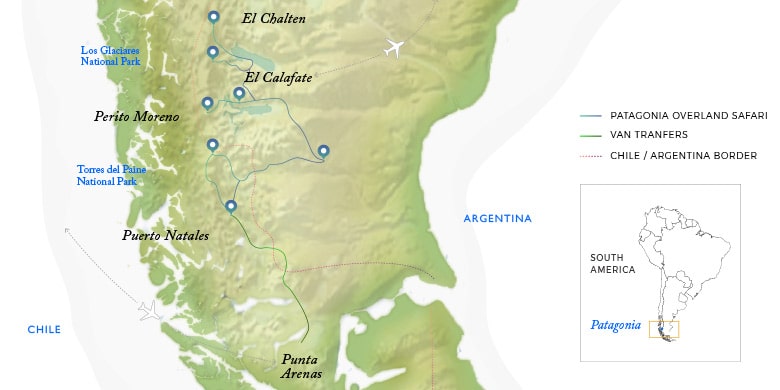 PATAGONIA WITH LIMITLES EXPLORE - 10 DAYS / 9 NIGHTS
Places visited: Torres del Paine in Chile & El Calafate + El Chalten in Argentina's Los Glaciares National Park.
view itinerary in brief
REQUEST A DETAILED ITINERARY
Request the Detailed Itinerary in PDF
Enter your details to receive the detailed PDF itinerary in your inbox. Enjoy a day-by-day description of the activities, highlights and wildlife you can expect to see!